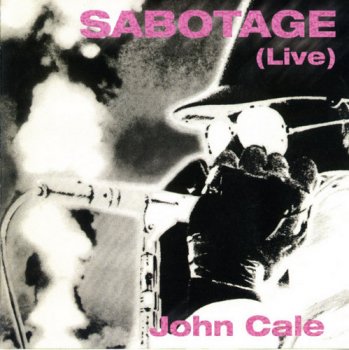 Artist: John Cale
Title Of Album: Sabotage (Live)
Year Of Release: 1979/1999
Label (Catalog#): Diesel Motor Records [MOTORCD1002]
Country: Wales
Genre: Alternative Rock, New Wave, Proto-punk
Quality: FLAC (tracks +.cue,log,scans)
Bitrate: Lossless
Time: 66:36
Full Size: 456 mb
Upload: Turbobit / DipFile
Though Lou Reed is often thought of as the abrasive member of the Velvet Underground, during the punk era Reed was writing confessional singer/songwriter albums while his former bandmate John Cale was traveling the world in the company of a band of snot-nosed youngsters raised on hard rock, shrieking himself into a frenzy, wearing a hard hat on-stage, and writing songs like "Chickenshit," a real-life tale of the time he beheaded a chicken (already dead) on-stage and threw the carcass into the crowd and his whole band quit in protest, set to the most merciless music he'd been a part of since White Light/White Heat. The similarly slashed Sabotage/Live is the noisiest album of Cale's career, but there's more here than volume and feedback. Recorded live at punk mecca CBGB's, the nine songs range from the howling "Mercenaries (Ready for War)" to the more reflective, dirge-like "Captain Hook," a sardonic epic meditation on British colonialism that's every bit as powerful as the louder, faster tracks.
TRACKLIST:
01. Mercenaries (Ready For War) (07:53)
02. Baby You KNow (04:01)
03. Evidence (03:32)
04. Dr. Mudd (03:54)
05. Walkin' The Dog (04:07)
06. Captain Hook (11:28)
07. Only Time Will Tell (02:26)
08. Sabotage (04:26)
09. Chorale (03:44)
Bonus Tracks
10. Chicken Shit (Studio) (03:35)
11. Memphis (Studio) (03:25)
12. Hedda Gabler (Studio) (08:12)
13. Rosegarden Funeral Of Sores (Studio) (05:43)
:: DOWNLOAD LINKS ::
Внимание! У Вас нет прав для просмотра скрытого текста.
MusicMuss