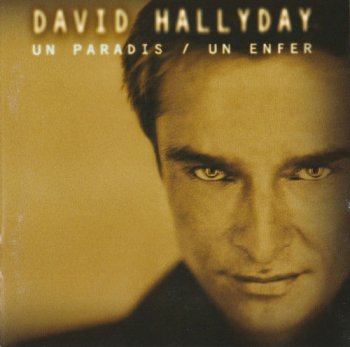 Artist: David Hallyday
Title Of Album: Un Paradis / Un Enfer
Year Of Release: 2000
Label (Catalog#): Mercury Records [542 374-2]
Country: France
Genre: French Pop Rock, Singer-Songwriter
Quality: FLAC (tracks +.cue,log,scans)
Bitrate: Lossless
Time: 55:55
Full Size: 455 mb
Upload: Turbobit / DipFile
David Hallyday was seemingly predestined for a career in music; his parents were French rock legend Johnny Hallyday and pop chanteuse Sylvie Vartan, France's "it" couple during the swinging '60s. Hallyday was born David Smet (his father's real name) on August 14, 1966, in Boulogne-Billancourt. From the age of four, he split his time between France and the United States, growing up bilingual and eventually enrolling in school in California. As a teenager, he played in an amateur rock & roll band, and in 1979 played drums behind his father for the first time in public. His stepfather, Tony Scotti, owned the Scotti Bros. label, and Hallyday went to work for him after finishing school. He also dabbled in acting, and won the lead role in the music-themed comedy He's My Girl in 1987, which allowed him the chance to record some of his original material. His first album, the English-language True Cool, was released in 1988 and sold nearly a million copies worldwide. The follow-up, Rock 'n' Heart, appeared in 1990 and gave him his only American chart single, "Ooh La La."

Sang Pour Sang Still singing in English, Hallyday had yet to make a dent in the French market. He issued his first French-language single, "Heros," in 1993, but then returned to English for his next album, a 1994 collaboration with the backing group Blind Fish called Pain and Pride. Another backing band, Novocaine, was assembled for a 1997 album of the same name, which was issued only in the United States to extremely muted response. In 1999, Hallyday collaborated with his father on the album Sang Pour Sang, writing all the music on the record. That same year, Hallyday finally released his first all-French album, Un Paradis/Un Enfer, and had his first major success in France. Hits like "Pour Toi" and "Tu Ne M'as Pas Laisse le Temps" boosted the album's sales, and he was showered with music awards come year's end. He took a detour into auto racing and won the GT championship in 2001. In the summer of 2002, he returned to music with the release of his second all-French album, Revelation.
TRACKLIST:
01 - Ange Etrange
02 - Pour Toi
03 - On S'en Va
04 - J'attends Que Ca Morde
05 - Un Paradis,Un Enfer
06 - Tu Ne M'as Pas Laisse Le Temps
07 - Rever De Toi
08 - Ca N'est Pas Tout
09 - Virtuel
10 - Un Petit Peu De Toi
11 - Des Mots
12 - Le Manque A Donner
:: DOWNLOAD LINKS ::
Внимание! У Вас нет прав для просмотра скрытого текста.
MusicMuss