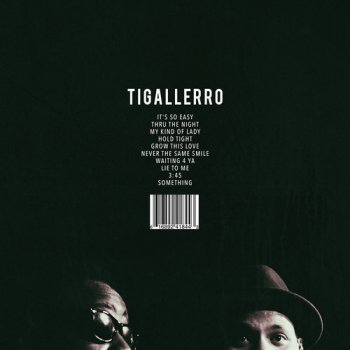 Artist: Phonte & Eric Roberson
Title Of Album: Tigallerro
Year Of Release: 2016
Label: HBD Label Group Records
Genre: Adult Contemporary R&B, Soul, Hip-Hop
Quality: FLAC (tracks +.cue,log)
Bitrate: Lossless
Time: 37:03
Full Size: 248 mb
Upload: Turbobit / DipFile
This duo's association goes back to 2007, when neither artist could refer to himself as Grammy-nominated. Phonte, then "Phonte of Little Brother," added a verse to Roberson's "Been in Love..." Phontigallo and Erro reunified a few times after that, heard on tracks like Phonte's "Who Loves You More," Roberson's "Picture Perfect," and Zo!'s "We Are on the Move." Almost a decade after their first collaboration, the two completed Tigallerro, an album they began plotting in 2013 but were unable to finish -- due to work and life conflicts -- until 2016. Outfitted with references to Run-D.M.C.'s King of Rock and Maxwell's Urban Hang Suite, it's an album that should be filed in the genre of the latter, though Phonte, at Roberson's behest, raps a few verses. Roberson also rhymes a couple times and does so without overextending himself, offhandedly boasting in the opening "It's So Easy" about fatherhood and creative independence, two states that also apply to his partner, a fellow major-label survivor. Seemingly created without fuss, Tigallerro is made of relaxed yet moving grooves, supplied by a cast of over of a dozen, that often evoke sunny and carefree Saturday afternoons. The two occasionally play around with some commercial trends, but they remain themselves, as grown men who descriptively sing about everyday romantic highs and lows, whether they're recalling contentment or regretting transgressions. Some of the cuts flow with such ease that the depth is easy to miss. On the surface, "Never the Same Smile" unfolds blissfully as Phonte and Shana Tucker trade lines, but then the wistful quality of its Foreign Exchange production cuts through as the song's heart, unrecoverable perfection, becomes apparent. On the closing "Something," over a Daniel Crawford production that is somehow fluid and chunky at once, Phonte and Roberson modestly attest their faith in serenely uplifted fashion. Tigallerro is also a testament to Phonte's growth as a songwriter, arranger, and singer. Roberson is the one with the deeper R&B background, he has no trouble acknowledging the development. He merely accents the Sheldon Williams collaboration "3:45," an early-morning slow jam -- one with a slight lilt recalling Zapp's "Be Alright" -- that contains an exceptionally sweet and open-hearted Phonte lead. Who in the aughts could have imagined WJLR putting such a thing on rotation?
TRACKLIST:
01. It's So Easy 03:36
02. Thru the Night 04:20
03. My Kinda Lady 02:38
04. Hold Tight 02:11
05. Grow This Love 04:47
06. Never the Same Smile 03:34
07. Waiting 4 Ya 03:19
08. Lie to Me 03:36
09. 3:45 04:11
10. Something 04:48
:: DOWNLOAD LINKS ::
Внимание! У Вас нет прав для просмотра скрытого текста.
MusicMuss