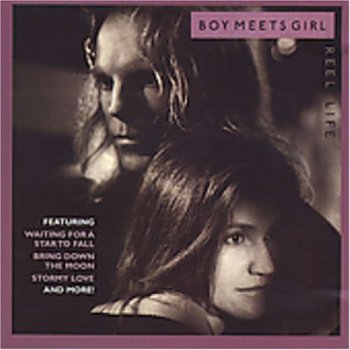 Artist: Boy Meets Girl
Title Of Album: Reel Life
Year Of Release: 1988/2004
Label (Catalog#): BMG Special Products [75517483612]
Country: United States
Genre: Pop, Adult Contemporary, Soft Rock, Synth-pop
Quality: FLAC (tracks + log)
Bitrate: Lossless
Time: 45:04
Full Size: 313 mb
Upload: Turbobit
Boy Meets Girl's George Merrill and Shannon Rubicam wrote Whitney Houston's "How Will I Know" and "I Wanna Dance with Somebody (Who Loves Me)," so they understand how important a foundation is to adult contemporary pop -- without something to pull the listener along, the songs become just flash and keyboard flutter, platitudes about love and loss. And while Reel Life suffers a little bit from the over-synthesized instrumentation of its era, Boy Meets Girl more often than not pushed the right melodic buttons on this, their biggest album. "Bring Down the Moon" and "Stay Forever" are particularly strong, while the hit single, "Waiting for a Star to Fall," is just a classic. "Trying to catch your heart is like trying to catch a star" -- the urgency as it drives toward its chorus is a clinic for durable songwriting. (It's no surprise that European house producer Mylo based an entire song around a single phrase from "Waiting for a Star to Fall.") "One Street Dream" and "Is Anybody out There in Love" make good use of Boy Meets Girl's coed vocal setup, and "No Apologies" gives Rubicam a chance to show off about halfway through, right before the too-saccharine sax solo. Reel Life rides that line, pairing its feel for songwriting in a 1970s soft rock style to a synthetic 1980s slickness. But ultimately it's the quality of the songs that wins out, making Reel Life one of the better lite rock entries of the era.
TRACKLIST:
1 Bring Down The Moon 5:00
2 Waiting For A Star To Fall 4:34
3 Stormy Love 4:34
4 Is Anybody Out There In Love 4:54
5 Stay Forever 4:07
6 If You Run 4:31
7 One Sweet Dream 5:45
8 No Apologies 4:21
9 Restless Dreamer 4:53
10 Someone's Got To Send Out Love 1:56
:: DOWNLOAD LINKS ::
Внимание! У Вас нет прав для просмотра скрытого текста.
:: MusicMuss ::
Изменил: artmuss по причине: Re-Up