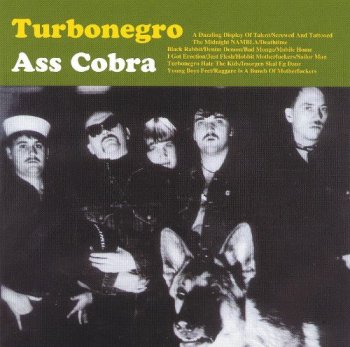 Artist: Turbonegro
Title Of Album: Ass Cobra
Year Of Release: 1996/2007
Label (Catalog#): Edel/Scandinavian Leather Recordings [0183632ERE]
Country: Norway
Genre: Glam Rock, Hard Rock, Deathpunk, Glam Punk
Quality: FLAC (tracks +.cue,log,scans)
Bitrate: Lossless
Time: 36:01
Full Size: 287 mb
Upload: Turbobit
Recorded between 1995 and 1996, Ass Cobra was Turbonegro's breakthrough to the American underground. Though not quite the epic work that Apocalypse Dudes was, Ass Cobra nonetheless paves the way harshly, with a sinister wash of cymbals and loud guitars, articulate riffs, and stellar songwriting -- think Poison Idea meets Alice Cooper. It is here also where Turbonegro developed their signature look: sailor caps, denim from head to toe, mustaches all around, and decidedly butch homoerotic accoutrements. Indeed, the subject matter on Ass Cobra does not stray far from such themes; the album is unapologetically sexual, and not in a polite manner -- songs like "The Midnight NAMBLA," "I Got Erection," and "Young Boys Feet" hammer them home with leather-whipped fury. Part of that may be gallows humor, part of that might be truth, and that's for the listener to figure out. It's the dubiousness of that question that is most troubling. The cover art is a clever perversion of the Beach Boys' Pet Sounds. Though Turbonegro did quite a bit of recording prior to this album, this was the one that set the pace, and the one that enabled them to record their masterpiece, Apocalypse Dudes.
TRACKLIST:
1 A Dazzling Display Of Talent
2 The Midnight NAMBLA
3 Deathtime
4 Black Rabbit
5 Denim Demon
6 Bad Mongo
7 Mobile Home
8 I Got Erection
9 Just Flesh
10 Hobbit Motherxxxers
11 Sailor Man
12 Turbonegro Hate The Kids
13 Imorgen Skal Eg Daue
14 Raggare Is A Bunch Of Motherxxxers
Bonus Tracks
15 Screwed & Tattoed
16 Young Boys Feet
:: DOWNLOAD LINKS ::
Внимание! У Вас нет прав для просмотра скрытого текста.
:: MusicMuss ::
Изменил: artmuss по причине: Re-Up