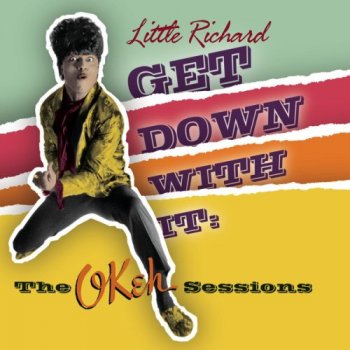 Artist: Little Richard
Title Of Album: Get Down With It: The OKeh Sessions
Year Of Release: 2004
Label (Catalog#): Epic/Legacy [516003 2]
Country: United States
Genre: Rock & Roll, Rhythm & Blues, Soul
Quality: FLAC (tracks,cue,log,scans)
Bitrate: Lossless
Time: 48:56
Full Size: 320 mb
Upload: Turbobit / HitFile / DipFile
While Little Richard Penniman is well known for his Specialty, Mercury, Veejay, and Modern recordings (though many of the sides on the latter two labels were merely redos of his Specialty hits), he is little celebrated for these wonderful sides recorded for Okeh in 1966 and 1967. The Little Richard on these sessions is a seasoned R&B singer whose feet are deeply rooted in modern-era Southern soul. That said, there are a few traces of Motown that creep in as well -- despite the fact that the material was all recorded in Hollywood. For Okeh, Little Richard recorded devastatingly fine versions of "Function at the Junction," "I Don't Want to Discuss It," Berry Gordy's "M-O-N-E-Y," "Poor Dog," "Hurry Sundown," and Sam Cooke's "Well All Right" to mention a few. To help him pull it all off -- this was seen as a last-ditch survival effort for the singer -- Little Richard's sidemen for these dates include Johnny "Guitar" Watson, Larry Williams, Eddie Fletcher, and Glen Willings -- a crack studio band if there ever was one. In sum, the Okeh material yielded one fine, 11-track album in The Explosive Little Richard released in 1967, and three issued B-sides for its singles. Appearing on this CD for the very first time are three leftover tracks that include smoking raw versions of Fats Domino's "Rocking Chair" and Leiber & Stoller's "Hound Dog." For those who are contemplating a Little Richard CD, the Specialty sides should come first because they contain the original versions of his classics. For those who already have that material, this set is an excellent addition to the Penniman shelf. There isn't a loser in the bunch, and these performances are truly inspired, burning from start to finish; they are startling even today. In addition to the great music, soul expert Charles White's liner notes are thorough and authoritative and offer the same kind of exuberance Penniman put into these performances.
TRACKLIST:
1. I Don't Want To Discuss It (02:28)
2. Land Of A Thousand Dances (02:10)
3. The Commandments Of Love (02:27)
4. Money (02:02)
5. Poor Dog (Who Can't Wag His Own Tail) (03:06)
6. I Need Love (02:39)
7. Never Gonna Let You Go (02:41)
8. Don't Deceive Me (04:39)
9. Function At The Junction (02:35)
10. Well All Right (02:56)
11. Hurry Sundown (02:50)
12. A Little Bit Of Something (Beats A Whole Lot Of Nothing) (03:10)
13. Golden Arrow (02:41)
14. Rocking Chair (03:19)
15. Get Down With It (03:16)
16. Rose Mary (02:52)
17. Hound Dog (02:56)
:: DOWNLOAD LINKS ::
Внимание! У Вас нет прав для просмотра скрытого текста.
:: MusicMuss ::