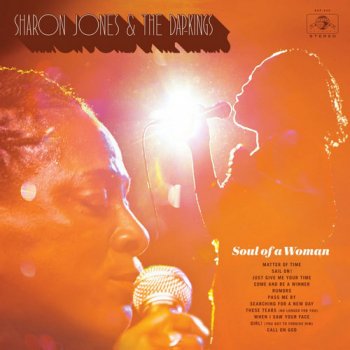 Artist: Sharon Jones & The Dap-Kings
Title Of Album: Soul of a Woman
Year Of Release: 2017
Label (Catalog#): Daptone [DAP-050]
Country: United States
Genre: Soul, Funk, R&B
Quality: FLAC (tracks,cue,log,scans)
Bitrate: Lossless
Time: 35:44
Full Size: 224 mb
Upload: Turbobit / HitFile / DipFile
Sharon Jones was 45 years old when she cut her first single with the retro-soul combo the Dap-Kings in 2001. She'd been trying to find a way into the music business for years before her partnership with the Dap-Kings unexpectedly made her a star, but it was obvious that once the right people heard her, they knew she one of the great R&B singers of her generation. Once the door opened for her, she didn't look back for a second. While Jones had beat cancer once, she wasn't as lucky when the disease reappeared in 2015, and through 2016 she played shows and recorded session in between rounds of treatment, with cancer finally claiming her life in November of that year. Some artists, knowing they have only so long to live, use their final recordings to sum up their lives and careers, but that was clearly not the case for Jones. Soul of a Woman, recorded during the last months of her life, is not an album about mortality; instead, this is the work of a woman who was determined to make the most of every moment allotted her. Soul of a Woman is a superb exercise in deep soul big-city style, and if Jones was ailing when she recorded her vocals, you would never guess to listen to the finished product. She's at the top of her game here, with her voice in fine shape and her phrasing and delivery on point, finding the right emotional details in the songs and working beautifully with the musicians, delivering powerful work on every cut. The Dap-Kings stepped up their game on Soul of a Woman as well; even more than on their previous work, the band evokes the sound and feel of another era without sounding mannered or mired in nostalgia, and this is an uncommon meeting between passion and precision. But the Dap-Kings clearly put their music at the service of their lead singer when they made this album, and they made the right choice. From the taut grooves and conscious lyrics of the opening cut, "Matter of Time," to the gospel-infused curtain call "Call on God" (written by Jones), Soul of a Woman is a rich, life-affirming work from an artist who valued her life and her music too much to not make the most of them up to the very end. This isn't just a fitting farewell to Sharon Jones; it's one of the best albums of her career.
TRACKLIST:
01. Matter of Time 03:22
02. Sail On! 03:00
03. Just Give Me Your Time 02:29
04. Come and Be a Winner 02:56
05. Rumors 02:33
06. Pass Me By 03:20
07. Searching for a New Day 03:14
08. These Tears (No Longer For You) 03:35
09. When I Saw Your Face 03:23
10. Girl! (You Got To Forgive Him) 04:09
11. Call On God 03:37
:: DOWNLOAD LINKS ::
Внимание! У Вас нет прав для просмотра скрытого текста.
:: MusicMuss ::