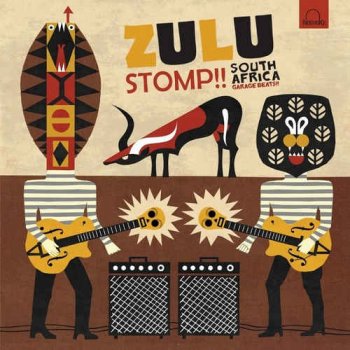 Artist: Various Artists
Title Of Album: Zulu Stomp!! South Africa Garage Beats!!
Year Of Release: 2010
Label (Catalog#): Nosmoke [NS007]
Genre: Rock & Roll, Rhythm & Blues, Psychedelic Rock, Soul, Garage Rock
Quality: FLAC (tracks,cue,log,scans)
Bitrate: Lossless
Time: 47:11
Full Size: 341 mb
Upload: Turbobit / HitFile / DipFile
While national newspapers portrayed them as 'hordes of sloppy, aggressive, be-jeaned louts and their girlfriends who cause so much trouble in South Africa,' a whole new generation of garage rockers was flooding the clubs with savage, primitive fuzz sounds. No doubt South Africa was the in-place in Mother Africa in the '60s, with a strong scene as can be heard on the Cazumbi compilations and this new Zulu Stomp that is exclusively dedicated to that country. Expect some of the best garage music you've ever heard from Africa, and don't miss this one if you liked Cazumbi... This release includes an insert with liner notes plus a bunch of rare photos. Great remastered sound as well.
TRACKLIST:
1. A-Cads – Watch Your Step
2. Upsetters – Daddy Rolling Stone
3. Freedom's Children – Satisfaction
4. John E. Sharp & The Squires – LSD
5. Ronnie Singer – I Want You
6. Bill Kimber & The Couriers – Come On, Come On, Come On
7. Bats – Get Your Baggies Out
8. Invaders – Thinking About You
9. Hoochie Coochies – I'm A Boy
10. A-Cads – Roadrunner
11. The 004's – I've Got News For You
12. John E. Sharp & The Squires – Walking The Dog
13. The Zeros – Work All Day
14. Johnny Congos And The G-Man – 900 Miles
15. Navarones – Blue Blue Feeling
16. The Kynd – Hideway
17. Hank Squires – Sick And Tired
18. Finders Keepers – Man Of The Sea
:: DOWNLOAD LINKS ::
Внимание! У Вас нет прав для просмотра скрытого текста.
:: MusicMuss ::