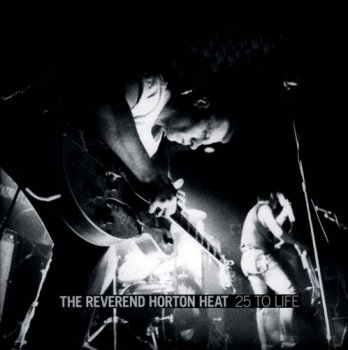 Artist: The Reverend Horton Heat
Title Of Album: 25 To Life
Year Of Release: 2012
Label (Catalog#): Yep Roc Records [YEP-2231]
Country: United States
Genre: Psychobilly, Rockabilly, Rock'n'Roll, Alternative Country
Quality: FLAC (tracks,cue,log,scans)
Bitrate: Lossless
Time: 2:10:15
Full Size: 1.04 gb
Upload: Turbobit / DipFile
In 1985, Jim Heath, a guitar player from Dallas who liked classic blues, rockabilly, and the Cramps, began playing gigs under the stage name the Reverend Horton Heat after a friend decided he needed a new stage persona. More than 25 years later, Heath is still making the most of his alter ego, headlining up to 150 shows a year where he tears up the stage for a loyal fan base. If Heath isn't quite the demonic force he was when he first exploded onto the national stage in the early '90s, he's still one of the very best guitarists on the roots rock scene, capable of blazing speed and slashing impact while maintaining a fluid dexterity and surprisingly graceful melodic sense that gives each of his flurries of notes a life of their own, and his rhythm section (Jimbo Wallace on upright bass and Paul Simmons on drums) can run rings around nearly anyone in rock & roll. In 2010, the Reverend Horton Heat played a string of dates to celebrate 25 years of hot-wired rockabilly mayhem, and 25 to Life was recorded during the San Francisco date of that tour; it's also the first live album Heath and Company have released after all those years together. The set list spans the breadth of Heath's career, from the A-side to the first Reverend Horton Heat single ("Big Little Baby") to a new and previously unreleased tune ("Please Don't Take the Baby to the Liquor Store"), and in the absence of a cross-licensed Greatest Hits package, 25 to Life does a better job than any album to date of charting the path of his musical vision. You may not need the bass and drum solos as part of a definitive study of the Reverend Heat's music, but the song selection skims the cream from his back catalog, and the band attacks this music with a crowd-pleasing vigor and impressive enthusiasm. Most bands don't sound this hot in their salad days, let alone after 25 years on the road, and 25 to Life not only affirms Jim Heath's status as one of the best rock guitarists at work today, but confirms he's a hell of a showman who isn't about to let an audience go home disappointed.
::TRACKLISTING::CD1 - The Best Of The Reverend Horton Heat
01 - Eat Steak
02 - Big Little Baby
03 - Loaded Gun
04 - One Time For Me
05 - Five-O Ford
06 - Liquor, Beer & Wine
07 - I Can't Surf
08 - The Entertainer
09 - It's Martini Time
10 - Cowboy Love
11 - Now, Right Now
12 - The Pride Of San Jacinto
13 - Jimbo Song
14 - Sue Jack Daniels
15 - Spend A Night In The Box
16 - The Girl In Blue
17 - The Party In Your Head
18 - What's Reminding Me Of You
19 - Loco Gringos Like A Party
20 - Like A Rocket
21 - Galaxy 500
22 - Callin' In Twisted
23 - Indigo Friends
CD2 - Live At The Fillmore
01 - I'm Mad
02 - Big Little Baby
03 - 400 Bucks
04 - The Devil's Chasing Me
05 - Big Sky
06 - Baddest Of The Bad
07 - It's Martini Time
08 - Please Don't Take The Baby To The Liquor Store
09 - Jimbo Wallace Introduction
10 - Jimbo Song
11 - Spend A Night In The Box
12 - Callin' In Twisted
13 - Indigo Friends
14 - Psychobilly Freakout
15 - Where In The Hell Did You Go With My Toothbrush
16 - Big Red Rocket Of Love
:: DOWNLOAD LINKS ::
Внимание! У Вас нет прав для просмотра скрытого текста.
:: MusicMuss ::