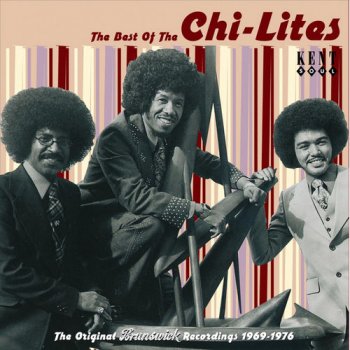 Artist: The Chi-Lites
Title Of Album: The Best of The Chi-Lites: The Original Brunswick Recordings 1969-1976
Year Of Release: 2004
Label (Catalog#): Kent Records [CDKEN911]
Country: United States
Genre: Soul, Funk, Disco, R&B
Quality: FLAC (tracks,cue,log)
Bitrate: Lossless
Time: 1:14:18
Full Size: 521 mb
Upload: Turbobit / DipFile
For smooth vocals with some funky backing you can't beat the Chi-Lites, whose 70s smash hits are all included in this generous package, mastered from the best sources ever. They were Chi-Town's #1 soul group of the 70s. Between 1969 and 1975 the Chi Lites racked up 23 US Hot 100 hits. This compilation achieves a fine balance that incorporates all their biggest successes and throws in a few of the lesser hits that are beloved by all connoisseurs of quality group soul.

Millions of young people around the world danced to the Chi-Lites in 2003. Sure, they may have thought they were dancing to Beyonce Knowles, but us older kids were ever happy to inform the young whippersnappers that B's massive floorfiller Crazy In Love would have sounded a bit, well, empty without the superpowered horns and bongos from the group's 1970 hit Are You My Woman (Tell Me So) to push its beats along. With a catalogue that also includes Oh Girl, Have You Seen Her, Stoned Out Of My Mind, Homely Girl and loads more like 'em, there's never been a time when the royalty well has run low or dry for The Chi-Lites prolific songwriter Eugene Record. If you want to hear soul harmony in its purest form, you've come to the right place.
TRACKLIST:
1. Give It Away
2. Let Me Be The Man My Daddy Was
3. 24 Hours Of Sadness
4. I Like Your Lovin' (Do You Like Mine)
5. Are You My Woman? (Tell Me So)
6. (For God's Sake) Give More Power To The People
7. Have You Seen Her
8. Oh Girl
9. The Coldest Days Of My Life (Part 1)
10. We Need Order
11. A Letter To Myself
12. Stoned Out Of My Mind
13. I Found Sunshine
14. Homely Girl
15. Too Good To Be Forgotten
16. There Will Never Be Any Peace (Until God Is Seated At The Conference Table)
17. Toby
18. It's Time For Love
19. You Don't Have To Go
:: DOWNLOAD LINKS ::
Внимание! У Вас нет прав для просмотра скрытого текста.
:: MusicMuss ::