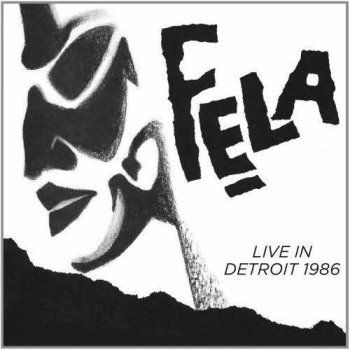 Artist: Fela Anikulapo Kuti & Egypt 80
Title Of Album: Live In Detroit 1986
Year Of Release: 2012
Label: Knitting Factory-Strut / STRUT095CD
Genre: Afrobeat, Jazz Funk, World, Highlife
Total Time: 2:23:10
Format: FLAC (tracks +.cue, log-file)
Quality: Lossless
Total Size: 1.02 gb
Upload: Turbobit
In its own way, this is a kind of grail; a live recording by the great Fela Kuti captured live mere months after his release from prison in 1986. After serving two years on a trumped-up charge of "currency trafficking," he was reluctantly released by the Nigerian government in April due to considerable pressure by Amnesty International. This show took place at Detroit's historic Fox Theater in November. The recording is the first release of "new" Fela material in nearly 20 years. The three CDs clock in at a bit under two-and-a-half hours -- the show could have easily fit on two discs -- and an audience recording by Bob Tegan. While this isn't the best quality sonically, it's certainly very good. It contains four very long tracks -- "Just Like That," "Confusion Breaks Bones," "Teacher Don't Teach Me Nonsense," and "Beast of No Nation." Interestingly, others who attended the show distinctly remember five jams; what happened to the other one is anyone's guess. Fela and Egypt 80 are in excellent form. His between-song banter with the audience is lively and doesn't detract at all. It ranges from very humorous to pointed to admonishing (especially when teaching them to pronounce Yoruban words). Musically, this band showcases jazz over funk, in contrast to the Africa 70 group, but the audience didn't mind a bit, and neither will listeners. Fela plays keyboards and saxophone, dances, and of course handles most of the lead vocals, backed by a chorus and very capable instrumentalists -- check the close level of communication on "Beast of No Nation." The improvisations are by turns spiraling, instinctively knotty, and sometimes dissonant -- there is a section of "Confusion Breaks Bones" where the whole band just loses its way before fighting back after a few minutes -- it's awesome hearing them try. The audience is somewhat familiar with this material, which adds to the sense of euphoria at the Fox and the electricity of the performance. While it isn't all great, most of it is, and while this isn't the best way for newcomers to acquaint themselves with Fela Kuti's music, it is an essential document for fans.
TRACKLIST
CD1: 1. Just Like That - 29:33
CD2: 2. Confusion Break Bones - 40:35
CD2: 3. Teacher Don't Teach Me Nonsense - 34:06
CD3: 4. Beast of No Nation - 38:57
:: DOWNLOAD LINKS ::
Внимание! У Вас нет прав для просмотра скрытого текста.
:: MusicMuss ::