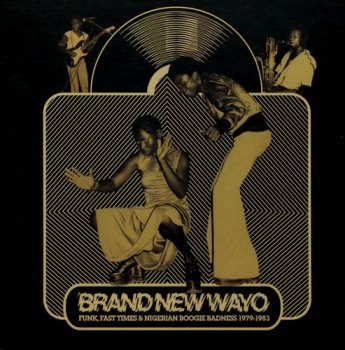 Artist: Various Artists
Title Of Album: Brand New Wayo: Funk, Fast Times & Nigerian Boogie Badness 1979-1983
Year Of Release: 2011
Label: Comb & Razor [CRZ1001CD]
Genre: Soul, Funk, AfroBeat, Disco
Total Time: 1:17:17
Format: FLAC (tracks,log-file)
Quality: Lossless
Total Size: 534 mb
Upload: Turbobit
With this release, Comb & Razor Sound launches its exploration of the colorful world of popular music from Nigeria, starting with the post-disco era of the late 1970s and early 80s. The years between 1979 and 1983 were Nigeria's Second Republic, when democracy finally returned after twenty-three years of uninterrupted military dictatorship. They were also the crest of Nigeria's oil boom, when surging oil prices made the petroleum-producing country a land of plenty, prosperity and profligacy. The influx of petrodollars meant an expansion in industry and the music industry in particular. Record companies upgraded their technology and cranked out a staggering volume of output to an audience hungry for music to celebrate the country s prospective rise as global power of the future. While it was a boom time for a wide variety of popular music styles, the predominant commercial sound was a post-afrobeat, slickly modern dance groove that retrofitted the relentless four-on-thefloor bass beat of disco to a more laidback, upbeat-and-downbeat soul shuffle, mixing in jazz-funk, synthesizer pop and afro feeling. At the time, it was still mostly locally referred to as "disco" but has since been recognized as its own unique genre retrospectively dubbed "Nigerian boogie." A Brand New Wayo: Funk, Fast Times and Nigerian Boogie Badness collects 15 pulsing Nigerian boogie tracks in a lovingly compiled package, featuring over 60 pages of rigorously researched liner notes and photographs chronicling one of the most progressive and creative eras in the history of African popular music.
TRACKLIST:
01 Mixed Grill – A Brand New Wayo
02 Kris Okotie – Show Me Your Backside
03 Murphy Williams – Get On Up
04 Joe Moks – Boys And Girls
05 Amas – Slow Down
06 Oby Onyioha – I Want To Feel Your Love
07 Dizzy K. Falola – Excuse Me Baby
08 Bayo Damazio – Listen To The Music
09 Martha Ulaeto – Music Alone
10 Segun Robert – Big Race
11 Amel Addmore – Jane
12 Chris Mba – Funky Situation
13 Honey Machine – Pleasure
14 Stormmers, The – Love Or Money
15 Emma Baloka – Let's Love Each Other
:: DOWNLOAD LINK ::
Внимание! У Вас нет прав для просмотра скрытого текста.
:: MusicMuss ::