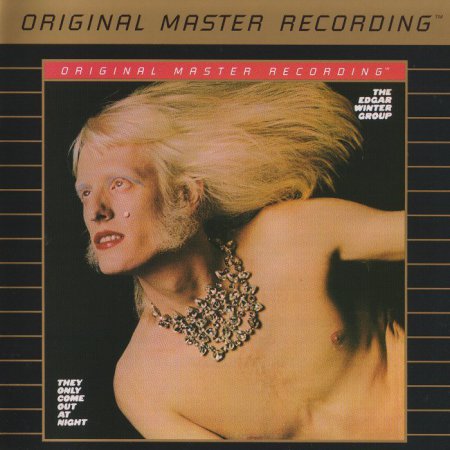 Artist
: The Edgar Winter Group
Title Of Album
: They Only Come Out At Night [SACD]
Year Of Release
: 2005 (1972)
Label (Catalog#)
: MFSL [UDSACD 2011]
Country
: USA
Genre
: Jazz Rock, Blues Rock
Quality
: DSD64 image (*.iso) | FLAC (tracks)
Bitrate
: 2.0 > 1-bit/2.8224 MHz | [24bit/88,2 kHz]
Time
: 34:58
Full Size
: 1,12 GB | 735 MB (Scans)
While this album will forever be remembered for spawning the huge hit singles "Frankenstein" and "Free Ride," there's plenty more to appreciate on this stellar release. From "the other single," "Hangin' Around," to the pretty melodies of "Round & Around" and "Autumn," the set collects ten outstanding cuts, played with fervor by Edgar Winter, Chuck Ruff, Dan Hartman, Randy Jo Hobbs, and Ronnie Montrose, along with guest artist/producer Rick Derringer. The "party" feel of "We All Had a Real Good Time" and the singalong "Alta Mira" only add to this already red-hot mix, making They Only Come Out at Night the album Winter will always be remembered for.
Tracklist
:
01. Hangin' Around
02. When It Comes
03. Alta Mira
04. Free Ride
05. Undercover Man
06. Round & Round
07. Rock 'N' Roll Boogie Woogie Blues
08. Autumn
09. We All Had A Real Good Time
10. Frankenstein
*************************
Edgar Winter
– organ, synthesizer, ARP 2600, piano, marimba, saxophone, timbales, vocals, clavinet, liner notes
Johnny Badanjek – drums
Rick Derringer – producer, bass, guitar, pedal steel, vocals, claves
Dan Hartman – guitar, bass, percussion, maracas, ukulele, vocals
Randy Jo Hobbs – bass
Ronnie Montrose – guitar, mandolin
Chuck Ruff – conga, drums, vocals
Mastered by Shawn R. Britton at Mobile Fidelity Sound Lab, Sebastopol, CA.
Uncompressed SACD ISO size > 1,42 GB
FLAC(converted with foobar2000 to tracks) 24bit/88,2 kHz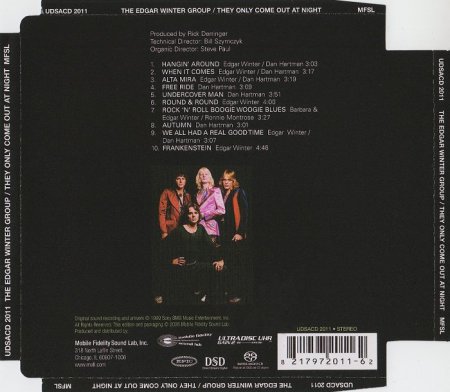 Внимание! У Вас нет прав для просмотра скрытого текста.