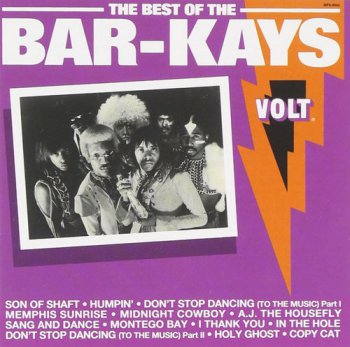 Artist: The Bar-Kays
Title Of Album: The Best Of The Bar-Kays
Year Of Release: 1992
Label (Catalog#): Stax/ZYX Music [SCD24 8542-2]
Country: United States
Genre: Soul, Funk, Disco, R&B
Quality: FLAC (tracks +.cue,log,scans)
Bitrate: Lossless
Time: 43:37
Full Size: 289 mb
Upload: Turbobit / DepFile
While curiously overlooking the group's earliest hits ("Soul Finger" and "Knucklehead"), The Best of the Bar-Kays offers a worthwhile thumbnail portrait of the Bar-Kays' evolution from a neo-Booker T. & the MG's soul instrumental combo into one of the wilder funk ensembles of the 1970s. Focusing on the years 1968 (when the group's second lineup came together following the death of four members of the band in the same airplane crash that claimed Otis Redding) through 1975 (when the band left Stax to sign with Mercury), The Best of the Bar-Kays finds them bridging the gap between the R&B sounds of the 1960s and the 1970s, and gaining more than their share of attitude along the way. Highlights include a very Booker T.-influenced cover of "Midnight Cowboy," the funky and funny Isaac Hayes pastiche "Son of Shaft," a revved-up take on "Montego Bay," and the tight groove of "A.J. the Housefly." While not a complete overview of the Bar-Kays' career, The Best of the Bar-Kays is at least a strong starter, and should ideally be followed up by The Best of Bar-Kays, which concentrates on their work for Mercury.
TRACKLIST:
1. Son Of Shaft (03:22)
2. Montego Bay (02:43)
3. Humpin' (02:43)
4. Sang And Dance (02:55)
5. Midnight Cowboy (02:48)
6. A.J. The Housefly (02:38)
7. In The Hole (02:34)
8. Holy Ghost (08:29)
9. I Thank You (03:31)
10. Don't Stop Dancing (To The Music) (Part 1) (02:53)
11. Don't Stop Dancing (To The Music) (Part 2) (02:21)
12. Copy Cat (02:20)
13. Memphis Sunrise (03:20)
:: DOWNLOAD LINKS :: СКАЧАТЬ ::
Внимание! У Вас нет прав для просмотра скрытого текста.