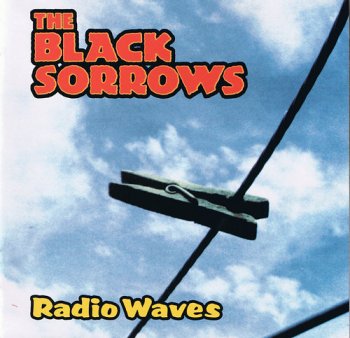 Artist: The Black Sorrows
Title Of Album: Radio Waves
Year Of Release: 1996
Label (Catalog#): Mushroom [TVD93473]
Country: Australia
Genre: Folk Rock, Pop Rock, Country, Blues, Funk/Soul, Americana
Quality: FLAC (tracks +.cue,log,scans)
Bitrate: Lossless
Time: 2:41:24
Full Size: 1.26 gb
Upload: Turbobit / DepFile
The Black Sorrows began playing semi-acoustic sets around Melbourne in 1984 releasing several laid-back albums which consisted of Van Morrison, John Lee Hooker, and Ray Peterson covers, as well as originals. The album Dear Children marked a change in fortune for the Black Sorrows. After being released independently, it was picked up by CBS and peaked at number 18 on the Australian national charts. Backing singers Vika and Linda Bull further distinguished the Black Sorrows sound, and they released Hold On to Me, which peaked at number six on the national charts in May 1989. It stayed on the Australian charts for over a y ear, sold over 250,000 copies and 150,000 copies when released in the U.S. and Europe. The Black Sorrows won Best Group at the 1989 Australian Record Industry Association (ARIA) Awards.
Harley and Rose was released in November 1990 and several overseas tours followed. During May 1992, the Black Sorrows performed at the Wizards of Oz gigs in Los Angeles with several other major Australian acts. Harley and Rose sold over 200,000 copies; a feat repeated by their next release, Better Times. In between Black Sorrows' obligations, Camilleri released Amazing Stories with his part-time band, the Revelators, later made available as a limited-edition pack with Better Times. In 1993, the Black Sorrows released the EPs Sweet Inspiration and Stir It Up before Camilleri dismantled the band and re-formed it as a solo act with supporting musicians.
In 1994, Camilleri traveled to New York to record Lucky Charm and contributed a cover of Country Radio's "Gypsy Queen" for the various artists compilation Earth Music. In December 1995, Camilleri released the EP All Saints Hotel, his first solo outing since the 1989 "Angel Dove" single. All Saints Hotel contained a zydeco reworking of Chuck Berry's "Run Rudolph Run," which had been destined to be the first Jo Jo Zep single in 1975.
TRACKLIST:CD 1:
01 - Last One Standing For Ya
02 - Lucky Charm
03 - Daughters Of Glory
04 - Mystified
05 - Harley And Rose
06 - Hold On To Me
07 - Never Let Me Go
08 - Come Into My Kitchen
09 - Country Girls
10 - Chosen Ones
11 - Stir It Up
12 - Hey Mama
CD 2:
01 - Rise And Fall
02 - Better Times
03 - Bone Man
04 - Brown Eyed Girl
05 - Chained To The Wheel
06 - Come On, Come On
07 - Snake Skin Shoes
08 - Stella
09 - Corrine Corrina
10 - Fire Down Below
11 - Promised Land
12 - Down To The Sea
13 - Ain't Love The Strangest Thing
14 - Angel Street
15 - Crack Up
CD 3:
01 - Big Time
02 - Radio Was King
03 - I Just Wanna Make Love To You
04 - Nobody Can Tell
05 - Blue Horizon
06 - Tears For The Bride
07 - Glory Bound
08 - Shape I'm In
09 - Life's Sad Parade
:: DOWNLOAD LINKS ::
Внимание! У Вас нет прав для просмотра скрытого текста.