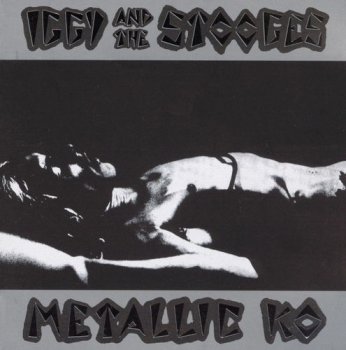 Artist: Iggy And The Stooges
Title Of Album: Metallic K.O.
Year Of Release: 1976/1999
Label (Catalog#): Skydog/Jungle Records [FREUD CD 70]
Country: United States
Genre: Proto-Punk, Hard Rock, Garage Rock
Quality: FLAC (tracks +.cue,log,scans)
Bitrate: Lossless
Time: 1:22:44
Full Size: 563 mb
Upload: Turbobit
There was a time when you really had to hunt for a copy of Metallic KO, chasing false lead after false lead until you finally came upon that backstreet record store that had imported a copy or two of the vinyl (and marked the price up accordingly). Today the thing is everywhere, and in so many perplexing permutations that, sometimes, you wish the CD revolution hadn't made everything so easy for people. Make them work again for their music -- it would mean an awful lot more to them if they did. Because Metallic KO means the world -- to anyone and everyone who ever sat down and unsuspectingly dropped needle onto wax and then reeled back in horror; this ain't rock & roll, it's a snuff movie. And the fact that it all sounds so tame these days just shows how much it's become a part of the language. This is not the "true" Metallic KO. Spread out over two CDs, it serves up six songs apiece from the two shows that were boiled together for the original vinyl -- doubling the length of the LP, but maybe diminishing the impact some. But still, through lurching takes of "Open Up and Bleed," "Heavy Liquid," and the ever-inspiring "I Got Shit" (all of which are new to the package), past the familiar dissolution of "Head on the Curb," "Rich Bitch," and "Cock in My Pocket," and into the nightmare closure, this remains rock & roll so far out on the edge that you get dizzy just listening to it. And, by the time the last glass explodes at the end of the world's greatest "Louie, Louie," you'll be ready to take on anything.
TRACKLIST:The Last Ever Iggy And The Stooges Show

Michigan Palace, Detroit, 9th Feb '74
1-1 Heavy Liquid 3:24
1-2 I Got Nothin' 4:29
1-3 Rich Bitch (Baby, Where Did Our Love Go?) 11:46
1-4 Gimme Danger 8:12
1-5 Cock In My Pocket 7:08
1-6 Louie Louie 3:42
Michigan Palace, Detroit, 6th Oct '73
2-1 Raw Power 5:48
2-2 Head On 8:31
2-3 Gimmie Danger 7:11
2-4 Search And Destroy 8:45
2-5 Heavy Liquid (I Wanna Be Your Dog) 9:52
2-6 Open Up And Bleed 4:05
Iggy Pop – lead vocals
James Williamson - guitar
Scott Thurston - piano, backing vocals, harmonica
Ron Asheton - bass, backing vocals
Scott Asheton - drums
:: DOWNLOAD LINKS ::
Внимание! У Вас нет прав для просмотра скрытого текста.
Изменил: artmuss по причине: Re-Up