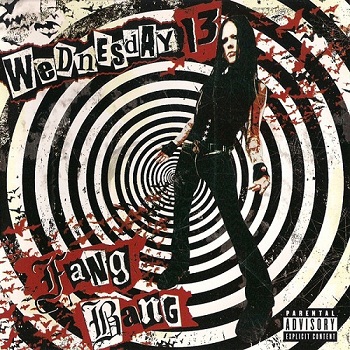 Artist:
Wednesday 13
Title Of Album:
Fang Bang
Release Date:
2006
Location:
USA
Label:
Rykodisc (RCD 10885)
Genre:
Horror Punk, Glam Metal
Quality:
FLAC (image+.cue+covers)
Length:
41:30 min
Tracks:
13
Total Size:
342 MB (+5%)
Fang Bang is the second studio album by American horror punk musician Wednesday 13. It was released by Rykodisc on August 29, 2006 in Europe, and was later released worldwide on September 12, 2006. Each song on the album is known to have been inspired by a specific piece of horror fiction, such as An American Werewolf in London, Halloween and Friday the 13th. Fang Bang contains twelve standard tracks, as well as a bonus track exclusive to a particular region. The North American release includes a thirteenth track, a Roky Erickson cover of "Burn the Flames". The thirteenth track on the European release is a Motörhead cover of "R.A.M.O.N.E.S.". Finally, the Japanese release includes "R.A.M.O.N.E.S.", as well as a fourteenth track, an original composition titled "Good Day to Die".
Tracklist:
01. Morgue Than Words (2:37)
02. American Werewolves In London (4:20)
03. My Home Sweet Homicide (3:02)
04. Faith In The Devil (3:30)
05. Happily Ever Cadaver (3:33)
06. Curse Of Me (4:02)
07. Haddonfield (2:59)
08. Too Much Blood (2:43)
09. Till Death Do Us Party (3:34)
10. Buried With Children (3:42)
11. Kill You Before You Kill Me (2:33)
12. Die Sci-Fi (3:36)
13. R.A.M.O.N.E.S. (Bonus Track) (1:14)
Download / Скачать flac:
Внимание! У Вас нет прав для просмотра скрытого текста.