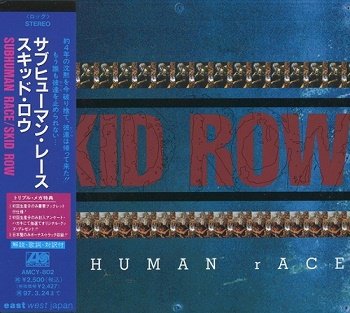 Artist:
Skid Row
Title Of Album:
Subhuman Race (Japan Edition)
Release Date:
1995
Location:
USA
Label:
Atlantic (AMCY-802)
Genre:
Hard Rock, Heavy Metal, Glam Metal
Quality:
FLAC (image+.cue+covers)
Length:
62:19 min
Tracks:
14
Total Size:
728 MB (+5%)
Subhuman Race (stylized sUBHUMAN rACE) is the third studio album by American heavy metal band Skid Row, released on March 28, 1995 by Atlantic Records. This is the last Skid Row album with singer Sebastian Bach and drummer Rob Affuso, and the last one to be released on Atlantic. It is regarded as the band's heaviest record, and despite receiving positive reviews, Subhuman Race was not as successful as the band's first two albums. Certain tracks from the album were remixed for the band's compilation 40 Seasons: The Best of Skid Row, given more tender, slightly cleaner mixes to fit better with the other tracks. To promote Subhuman Race, Skid Row supported Van Halen in North America on their Balance tour.
Tracklist:
01. My Enemy
02. Firesign
03. Bonehead
04. Beat Yourself Blind
05. Eileen
06. Remains To Be Seen
07. Subhuman Race
08. Frozen
09. Into Another
10. Face Against My Soul
11. Medicine Jar
12. Breakin' Down
13. Ironwill
14. Frozen (Demo version) (Bonus track)
Password:
morpeh
Внимание! У Вас нет прав для просмотра скрытого текста.