Artist: Terje Rypdal
Title Of Album: Skywards
Year Of Release: 1997
Label (Catalog#) ECM [ECM 1608]
Country:: Norway
Genre: Jazz, Fusion
Quality: Ape (image + cue)
Bitrate: Lossless
Time: 00:49:46
Full Size: 212mb(+3%)(covers)

AllMusic Review by Thom Jurek
With over 20 records under his own name and countless more as a collaborator, band member, or guest, guitarist Terje Rypdal has written and performed virtually in all styles of music that emanate from classical or jazz. As an improviser he is a brilliant thinker and spontaneous composer. As a proper composer he has written everything from pop singles to symphonies. Skywards is a return to jazz proper for Rypdal. He surrounds himself with familiar faces for this date, including cellist David Darling, bassist Palle Mikkelborg, Jon Christensen on drums, and Terje Tønnesen on violin. Also employed are Christian Eggen on piano and electronic keyboards and the additional drumming and percussion talents of Paolo Vinaccia. Rypdal's signature guitar sound, present in every moment of his solo breaks, has a soaring, piercing kind of emotional reach. It is indeed "skyward" in its sound. On this date he marries postmodern jazz (which sometimes harks back to its swinging past) with European improvisation, his own take on classical music (which sounds more like a Norwegian Morricone than Sibelius), and rock music, to create -- if this is possible -- a newly textured instrumental music that is free of all trappings. Nowhere is this more evident than on "Out of This World (Sinfonietta)," where the post-bop jazz in the first movement bleeds into a place where Darling's cello is allowed to break free of its traditional constraints and climb to the heavens along with Rypdal's burning guitar lines, which come as much from Jimi Hendrix as from John McLaughlin. About halfway through, the work moves into the territory of free improvising, before Rypdal brings it back to a processional, theatrical close. What follows are gorgeous, textured ambient balladry, precise salon music, and more free jazz/rock workouts. Skywards is Rypdal's most openly schizophrenic yet satisfyingly ambitious work in many years.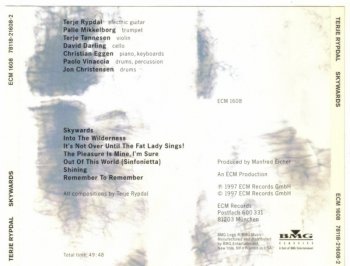 Tracks:
--------
1. Skywards (4:02)
2. Into The Wilderness (7:35)
3. It's Not Over Until The Fat Lady Sings! (4:29)
4. Pleasure Is Mine, I'm Sure, The (3:11)
5. Out Of This World (Sinfonietta) (16:07)
6. Shining (5:42)
7. Remember To Remember (8:44)

Personnel:
---------
Terje Rypdal / electric guitar
Christian Eggen / piano, keyboards, sampler (5)
Palle Mikkelborg / trumpet
Terje Tønnesen / violin
David Darling / cello
Paolo Vinaccia / drums, percussion
Jon Christensen / drums

All thanks to original releaser
Внимание! У Вас нет прав для просмотра скрытого текста.
---
Вернуться назад