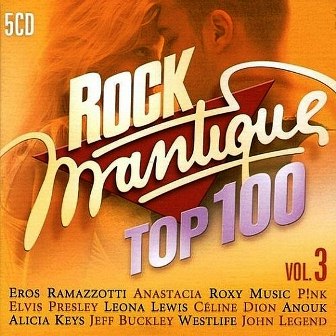 »сполнитель:
VA
Ќазвание альбома:
Rock Mantique Top 100 Vol.3
∆анр:
Pop, Rock
√од ¬ыпуска:
2010
 оличество треков:
5CD
¬рем€ звучани€:
387:53 Min
'ормат:
FLAC
 ачество:
Lossless
–азмер файла:
2.48 Gb
«алито на:
Letitbit, Shareflare , Vip-File
"реклист:
CD1
01. Eros Ramazzotti Ц Se Bastasse Una Canzone
02. Gloria Estefan Ц Cuts Both Ways
03. Duran Duran Ц Ordinary World
04. Christina Aguilera Ц I Turn To You
05. Ugly Kid Joe Ц Cats In The Cradle
06. Westlife Ц Flying Without Wings
07. Gino Vannelli Ц Hurts To Be In Love
08. REO Speedwagon Ц Keep On Loving You
09. Rick Astley Ц Cry For Help
10. Air Supply Ц All Out Of Love
11. Anita Meyer Ц They DonТt Play Our Lovesong Anymore
12. Billy Ocean Ц ThereТll Be Sad Songs (To Make You Cry)
13. Gerry Rafferty Ц Baker Street
14. Kool And The Gang Ц Cherish
15. John Mayer Ц Daughters
16. Peaches & Herb Ц Reunited
17. The Platters Ц Smoke Gets In Your Eyes
18. Luther Vandross Ц Any Love
19. Elvis Presley Ц There Goes My Everything
20. Anouk Ц Sacrifice
CD2
01. Crash Test Dummies Ц Mmm Mmm Mmm Mmm
02. The Fray Ц How To Save A Life
03. Buckshot LeFonque Ц Another Day
04. Dr. Hook & The Medicine Show Ц SylviaТs Mother
05. Van Morrison Ц Brown Eyed Girl
06. Chris Brown Ц With You
07. TLC Ц Dear Lie
08. Toto Ц Out Of Love
09. The LovinТ Spoonful Ц Daydream
10. Bobby Vinton Ц Blue Velvet
11. Tim Hardin Ц Simple Song Of Freedom
12. Gregory Abbott Ц Shake You Down
13. The Union Gap feat. Garypuckett Ц Young Girl
14. Regina Belle Ц Baby Come To Me
15. Minnie Riperton Ц LovinТ You
16. Mary Wells Ц My Guy
17. Athlete Ц Wires
18. Diana Ross & Lionel Richie Ц Endless Love
19. Alicia Keys Ц A WomanТs Worth
20. Frankie Goes To Hollywood Ц The Power Of Love
CD3
01. Barry White Ц YouТre The First, The Last, My Everything
02. Jordin Sparks feat. Chris Brown Ц No Air
03. Heather Nova Ц You Left Me A Song
04. Angie Stone Ц Wish I DidnТt Miss You
05. Simon & Garfunkel Ц Homeward Bound
06. Clannad & Bono Ц In A Lifetime
07. Total Touch Ц One Moment Your Mind
08. Kajagoogoo Ц Too Shy
09. The Manhattans Ц Kiss And Say Goodbye
10. Colin Blunstone Ц I DonТt Believe In Miracles
11. Brian McFadden Ц Real To Me
12. Simon Webbe Ц No Worries
13. C line Dion Ц When I Fall In Love
14. Nik Kershaw Ц WouldnТt It Be Good
15. Divinyls Ц I Touch Myself
16. Starship Ц NothingТs Gonna Stop Us Now
17. Nazareth Ц Love Hurts
18. ABC Ц All Of My Heart
19. Spandau Ballet Ц True
20. Atomic Kitten Ц If You Come To Me
CD4
01. Krezip Ц I Would Stay
02. Leona Lewis Ц Better In Time
03. Maria Mena Ц Just Hold Me
04. Raphael Saadiq Ц Love That Girl
05. Thompson Twins Ц Hold Me Now
06. Usher Ц Burn
07. Sutherland Brothers & Quiver Ц Arms Of Mary
08. Racoon Ц Love You More
09. Brownstone Ц If You Love Me
10. Sarah McLachlan Ц Building A Mystery
11. Sophie B. Hawkins Ц As I Lay Me Down
12. Dan Fogelberg Ц Longer
13. Daryl Hall & John Oates Ц Sara Smile
14. Dolly Parton Ц I Will Always Love You
15. Do Ц Follow Me
16. Gary Moore Ц Still Got The Blues (For You)
17. Stevie Wonder Ц My Cherie Amour
18. Thunderclap Newman Ц Something In The Air
19. Roxy Music Ц Avalon
20. P!nk Ц Family Portrait
CD5
01. Jeff Buckley Ц Hallelujah
02. John Legend Ц Save Room
03. Mr. Mister Ц Broken Wings
04. СN Sync Ц Thinking Of You (I Drive Myself Crazy)
05. Natasha Bedingfield Ц I Bruise Easily
06. Golden Earring Ц Hold Me Now
07. Mathilde Santing Ц Beautiful People
08. Dionne Warwick Ц All The Love In The World
09. Bad English Ц When I See You Smile
10. The Byrds Ц Mr. Tambourine Man
11. Cali Aleman & The Original Latin All Stars Ц Purest Of Pain
12. Anastacia Ц Heavy On My Heart
13. Linda Martin Ц Why Me?
14. Fleetwood Mac Ц Albatross
15. Hind Ц Weak
16. Silkstone Ц WhatТs The Reason?
17. The Alan Parsons Project Ц Eye In The Sky
18. Scorpions Ц Send Me An Angel
19. Simple Minds Ц DonТt You (Forget About Me)
20. Michael Jackson Ц I Just CanТt Stop Loving You
¬нимание! " ¬ас нет прав дл€ просмотра скрытого текста.
---
¬ернутьс€ назад