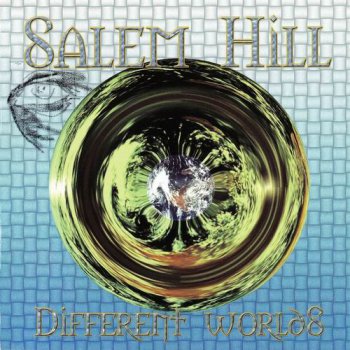 YEAR: 1993
STYLE: Neo Progressive Rock
FORMAT: FLAC (Tracks + Log + .Cue + Scans + 5% Recovery)
SIZE: 329 Mb
COUNTRY: USA
THE BAND:
Carl Groves / guitar, keyboards, vocals; Patrick Henry / 4- & 8-string bass, vocals; Kevin Thomas / drums, vocals
SALEM HILL was formed in 1991 by singer, guitarist and songwriter Carl Groves, bassist Pat Henry, and drummer Kevin Thomas. Prior to the recording of the bands first album in Spring 1992, simply titled "Salem Hill", the band was joined by Michael Dearing on vocals and guitar. The band followed up their debut with "Different Worlds" in 1993 and then proceeded to take a three year break from recording and performing.

The band got back together, without Michael Dearing, to record 1997's "Catatonia", a concept album about a man born with the inability to dream. Following the release of their third album, SALEM HILL were invited to play at 1997's Progday in Chapel Hill.

They began recording their next album, also a conceptual piece, in 1998. "The Robbery of Murder" centered on the theme of a person's quest to kill the drunk driver responsible for killing his father. For this album, Michael Dearing was back in the fold, but original bass player Pat Henry had departed. David Ragsdale of KANSAS fame made a guest appearance on violin. On the strength of this album, Cyclops Records signed the band to their label.

In 2000, keyboardist Michael Ayers joined the band and Pat Henry rejoined for the release of their fifth album, "Not Everybody's Gold" which included the 28-minute "Sweet Hope Suite". Salem Hill again headlined the Progday festival in 2000 and also played at DragonCon, the largest sci-fi convention in North America the same year. Unfortunately, the process of recording this album had been a grueling one and the band, unofficially, decided to call it quits, with Thomas moving to Florida and Groves unwilling to record again under the circumstances of the previous recording sessions.

In 2002, the band reformed, sans Michael Ayers, for a one-off concert as a tribute to their fans. This performance was recorded and with supplemental live material and one brand-new track was released as "Puppet Show" in 2003. After recording the new track, the band decided to go forward, and began recording their sixth album "Be" which was also released in 2003. Following this release, the band released their seventh album "Mimi's Magic Moment" which included another guest appearance by David Ragsdale, as well as guest vocals by Neal Morse and a piano solo from GLASS HAMMER's Fred Schendel.

Following this release the band recorded the live DVD "Mystery Loves Company" during their tour promoting the album. The DVD was released in 2007. Bandleader Carl Groves also spent some time as a member of GLASS HAMMER, providing lead vocals for a live DVD and lead vocals and some of the lyrics to that band's last album "Culture of Ascent".
http://www.progarchives.com
Track Listing:
1. The Here And Now
2. Brave New World
3. Same Planet, Different Worlds
4. Question Of Honor
5. Can't Let Go
6. There's Always Canada
7. Invisible
8. Listen To Me
The Band:
- Carl Groves / guitar, keyboards, vocals
- Patrick Henry / 4- & 8-string bass, vocals
- Kevin Thomas / drums, vocals
Внимание! У Вас нет прав для просмотра скрытого текста.