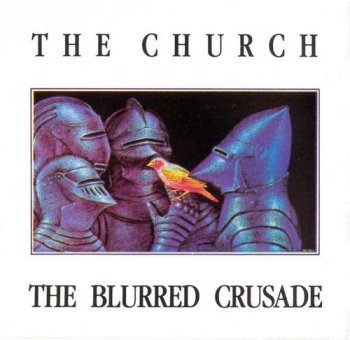 Artist: The Church
Title Of Album: The Blurred Crusade
Year Of Release: 1982/1996
Label (Catalog#): Parlophone [CDP 790625 2]
Country: Australia
Genre: Alternative Rock, Psychedelic Rock, New Wave, Dream Pop
Quality: FLAC (tracks,cue,log,scans)
Bitrate: Lossless
Time: 44:52
Full Size: 293 mb
Upload: Turbobit
After such a fine debut as Of Skins and Heart, creating a follow-up might have been a burden for the Church -- and maybe it was, but the end result was well worth it. Perhaps even better than their first, Blurred Crusade captures what for many remains the classic early Church sound, blending both the various strains of '60s inspiration and postpunk drive detected from the start with an even more elegant melancholy. Musically, both Willson-Piper and Koppes are just fantastic, their combination of guitar playing running the range from sparkling post-Byrds chime to sharp power. If the group doesn't fully explode here as much as later albums would demonstrate, especially on Heyday, that perhaps can be laid at producer Bob Clearmountain's feet. Consider the slow but steady build up of "When You Were Mine," guitar lines and notes setting the scene before fully kicking into the main riff and the clever but not forced production on the vocals on some of the middle verses. Add on the fantastic solo about four minutes in, and this is great rock music, period, deeply impressive coming on a sophomore album. Highlights are plentiful throughout Blurred, but the best numbers are perhaps the opening "Almost With You," a note-perfect combination of hooks and downbeat but not morose atmosphere, and the lengthy, powerful "You Took." Willson-Piper's lead vocal number "Field of Mars" and the brief, concluding "Don't Look Back" are further songs of note.
::TRACKLIST::
1. Almost With You (4:11)
2. When You Were Mine (5:43)
3. Fields Of Mars (4:54)
4. An Interlude (4:32)
5. Secret Corners (1:45)
6. Just For You (5:20)
7. A Fire Burns (4:50)
8. To Be In Your Eyes (3:52)
9. You Took (8:09)
10. Don't Look Back (1:59)
- Steve Kilbey / vocals, bass, keyboards
- Peter Koppes / lead guitar, slide guitar, vocals
- Marty Willson-Piper / electric 6 and 12 string guitars, acoustic guitars, vocals
- Nick Ward / drums, percussion, vocals, the thing
:: DOWNLOAD LINK ::
Внимание! У Вас нет прав для просмотра скрытого текста.
:: MusicMuss ::