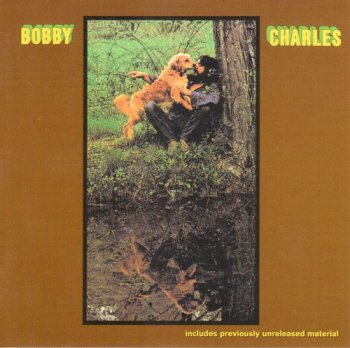 Artist: Bobby Charles
Title Of Album: Bobby Charles
Year Of Release: 1972/1999
Label (Catalog#): Bearsville Records [ESM CD 675]
Country: United States
Genre: Rock, Rhythm & Blues, Rock & Roll, Americana, Singer/Songwriter
Quality: FLAC (tracks,cue,log,scans)
Bitrate: Lossless
Time: 55:03
Full Size: 313 mb
Upload: Turbobit
Hooking up with the Band, specifically Rick Danko and their producer John Simon, was one of the smartest moves Bobby Charles ever made. His subsequent eponymous album on Bearsville not only gave him a bigger audience, but led to the perfect production for his sly, subtle blend of New Orleans R&B, rock & roll, and country. Partially, that's because the production is fuller, richer than his sides for Chess, Jewel, and Paula, boasting not just some grit, but a sweetness on ballads like "I Must Be in a Good Place Now," a tune every bit as good as those from the singer/songwriters who dominated the charts in 1972. This gives the album an earthier quality than anything else he recorded; it also makes the album feel like a perfect companion piece to other roots rock albums from the time like, of course, the Band. Still, there's a special charm to this record, largely because while it sounds contemporary, it retains Charles' mellow vibe and his sharp songwriting. The songs come on slow -- "Street People," "He's Got All the Whiskey," and "Small Town Talk" all slowly unwind -- but the slow build is friendly, welcoming you into the song. This isn't lazy music, but it takes its time and it's better for it; it's perfect music for a hot summer afternoon. It's a true hidden gem of blue-eyed soul, Southern R&B, and early '70s roots rock (and early-'70s singer/songwriterism, for that matter).
:: TRACKLIST ::
01. Street People
02. Long Face
03. I Must Be In A Good Place Now
04. Save Me Jesus
05. He's Got All The Whiskey
06. Small Town Talk
07. Let Yourself Go
08. Grow Too Old
09. I'm That Way
10. Tennessee Blues
Bonus Tracks
11. Homemade Songs
12. New Mexico
13. Rosie
14. Small Talk
:: DOWNLOAD LINK ::
Внимание! У Вас нет прав для просмотра скрытого текста.
:: MusicMuss ::