Artist: The Fabulous Rhinestones
Title Of Album Freewheelin'
Year Of Release:1973/2011
Label (Catalog#) : Riverman [VSCD-3539]
Country: USA
Genre: Blues Rock, Brass Rock, Jazzy
Quality: Flac (image + cue,log)
Bitrate: Lossless
Total Time: 00:38:44
Total Size: 246mb(+3%)(covers)

The Fabulous Rhinestones were an R&B-based band formed in San Francisco in 1971 by ex-Illinois Speed Press guitarist/singer Kal David and ex-Electric Flag (and Bob Dylan, Al Kooper, and Miles Davis) bassist Harvey Brooks. They moved to Woodstock, NY, where they played with members of the Band and some of their own fellow Chicago bluesmen, including Paul Butterfield, and were signed by producer Michael Lang -- the co-producer of the Woodstock festival -- to his own Just Sunshine label. The group cut three LPs over the next three years, all of which received critical raves without selling in huge numbers -- they also got considerable exposure playing on the same bill with the Allman Brothers, Stevie Wonder, and the Doobie Brothers, but their most visible gig was probably playing a 1971 antiwar rally in New York with John Lennon and Yoko Ono. They split up in the mid-'70s and David later played with Etta James, Al Kooper, and Johnny Rivers. The Fabulous Rhinestones' work has been compiled for reissue on CD in Japan in the 21st century.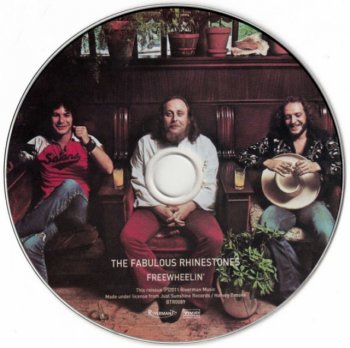 Tracklist
---------
1. Freewheelin' (Marty Grebb, Harvey Brooks, Kat McCord) - 3:07
2. Down To the City (Kal David, Marty Grebb) - 4:22
3. Go with Change (Kal David, Marty Grebb, Harvey Brooks) - 3:55
4. What Becomes of Your Life (Marty Grebb) - 3:54
5. Vicious Circle (Kal David, Marty Grebb) - 4:46
6. Do It Like Ya Mean It (Marty Grebb, David Thomas) - 4:05
7. Roots With You Girl (Kal David, Marty Grebb, Harvey Brooks, Kat McCord) - 4:19
8. Hurt Somebody (Leon Russell) - 4:18
9. Whitecaps (Instrumental) (Marty Grebb, Harvey Brooks, Kal David, David Sanborn) - 5:30

Personnel:
------
Harvey Brooks - Bass, Acoustic Bass, Vocals
Kal David - Vocals, Guitar
Marty Grebb - Piano, Organ, Mellotron, Saxophone, Guitar, Vocals, Synthesizer
-------------------
Dave Sanborn - Alto Saxophone
Kat McCord - Vocals
Reinol Isaac "Dino" Andino - Congas
Greg Thomas - Drums
Dennis Whitted - Drums
Jean "Toots" Thielemans - Harmonica
Joe Walsh - Synthesizer
Michael Brecker - Tenor Saxophone
Tito Puente - Timbales
Barry Rogers - Trombone
Randy Brecker - Trumpet

All thanks to original releaser
Внимание! У Вас нет прав для просмотра скрытого текста.