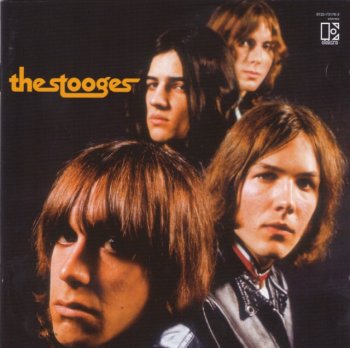 Artist: The Stooges
Title Of Album The Stooges
Year Of Release: 1969/2005
Label (Catalog#) : Elektra/Rhino [8122-73176-2]
Country: USA
Genre: Psych Garage Rock, Proto-Punk
Quality: FLAC (image + cue)
Bitrate: Lossless
Total Time: 01:17:42
Total Size: 615mb(+3%)(covers)

AllMusic Review by Mark Deming
While the Stooges had a few obvious points of influence -- the swagger of the early Rolling Stones, the horny pound of the Troggs, the fuzztone sneer of a thousand teenage garage bands, and the Velvet Underground's experimental eagerness to leap into the void -- they didn't really sound like anyone else around when their first album hit the streets in 1969. It's hard to say if Ron Asheton, Scott Asheton, Dave Alexander, and the man then known as Iggy Stooge were capable of making anything more sophisticated than this, but if they were, they weren't letting on, and the best moments of this record document the blithering inarticulate fury of the post-adolescent id. Ron Asheton's guitar runs (fortified with bracing use of fuzztone and wah-wah) are so brutal and concise they achieve a naïve genius, while Scott Asheton's proto-Bo Diddley drums and Dave Alexander's solid bass stomp these tunes into submission with a force that inspires awe. And Iggy's vividly blank vocals fill the "so what?" shrug of a thousand teenagers with a wealth of palpable arrogance and wondrous confusion. One of the problems with being a trailblazing pioneer is making yourself understood to others, and while John Cale seemed sympathetic to what the band was doing, he didn't appear to quite get it, and as a result he made a physically powerful band sound a bit sluggish on tape. But "1969," "I Wanna Be Your Dog," "Real Cool Time," "No Fun," and other classic rippers are on board, and one listen reveals why they became clarion calls in the punk rock revolution. Part of the fun of The Stooges is, then as now, the band managed the difficult feat of sounding ahead of their time and entirely out of their time, all at once.
Tracklist
---------
Disc 1
01. 1969 - 4:07
02. I Wanna Be Your Dog - 3:12
03. We Will Fall - 10:16
04. No Fun - 5:18
05. Real Cool Time - 2:32
06. Ann - 3:00
07. Not Right - 2:51
08. Little Doll - 3:23
Disc 2
01. No Fun (Original John Cale Mix) - 4:42
02. 1969 (Original John Cale Mix) - 2:44
03. I Wanna Be Your Dog (Original John Cale Mix) - 3:25
04. Little Doll (Original John Cale Mix) - 2:48
05. 1969 (Alternate Vocal) - 4:47
06. I Wanna Be Your Dog (Alternate Vocal) - 3:28
07. Not Right (Alternate Vocal) - 3:11
08. Real Cool Time (Alternate Mix) - 3:22
09. Ann (Full Version) - 7:51
10. No Fun (Full Version) - 6:49

Personnel:
---------
Iggy Pop - Vocals
Ron Asheton - Guitar, Vocals
Scott Asheton - Drums
Dave Alexander - Bass
John Cale - Piano, Sleighbell on "I Wanna Be Your Dog", Viola on "We Will Fall"

Notes:
Disc 1: Originally issued as Elektra LP #74051 in August 1969.
Disc 2: All previously unissued

2-5 to 2-10 mixed in March 2005 at OFR Studio, North Hollywood, CA.

All thanks to original releaser
Внимание! У Вас нет прав для просмотра скрытого текста.
---
Вернуться назад