Specially For Lossless Galaxy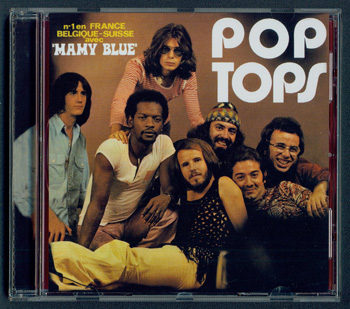 Исполнитель: POP TOPS
Альбом: Mamy Blue
Информация: Magic Records 3930798, Made in France
Жанр: Pop / Soft Rock
Год: 1971/2008
Формат: WAVPack (image +.cue +.log)
Covers: format JPG, full scans


Galaxy-File

305MB (3% восстановление)
Дата публикации: 2011-01-15Los Pop Tops were a vocal/instrumental band formed in 1967 in Madrid, Spain and consisting of José Lipiani, Alberto Vega, Ignacio Pérez, Julián Luis Angulo, Enrique Gómez, Ray Gómez plus lead singer Phil Trim (born January 5, 1940, Trinidad and Tobago).
Their sound was a blend of baroque classical-styled pop with the soulful vocals of Trim. Major influences included Procol Harum and The Left Banke.

1. Sometimes You Win, Sometimes You Lose
2. Road To Freedom
3. Just Pretend
4. You Finally Found Your Man
5. Oh Lord, Why Lord?
6. Mamy Blue
7. What A Place To Live In
8. Grandma
9. Walk Along By The River Side
10. Give Me Up As Lost


BONUS TRACKS:


11. Love And Care (1969)
12. Young And Foolish (1969)
13. Suzanne (1972)
14. Happiness Ville (1972)
15. Oh Lord, Why Lord? (French EP Mono Version) (1968)
16. Somewhere (1968)
17. The Voice Of The Dying Man (1968)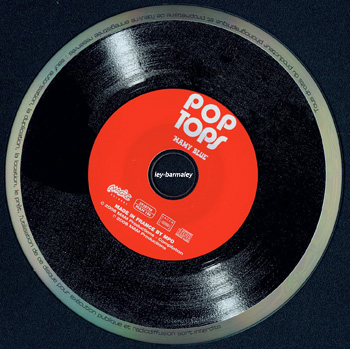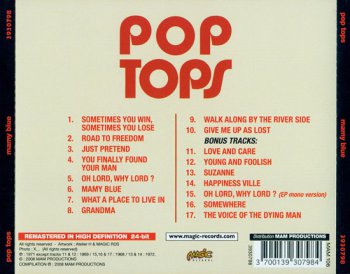 ---
Вернуться назад