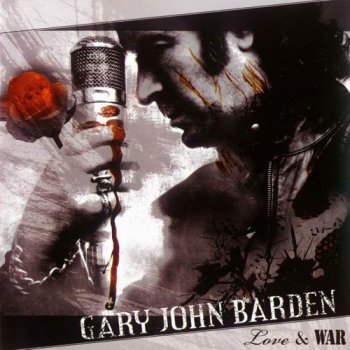 Artist: Gary John Barden
Album: Love & War
Year: 2007 (Escape Music)
Style: Hard Rock
Time: 00:42:05
Bitrate: FLAC (tracks +.cue +.log)
Covers: JPG, full scans

Produced by Michael Voss

1. Creatures of the Night
2. Unchain Me
3. When the Lovin' Dies
4. The Last Samurai
5. You
6. Dragon's Fire
7. Voices in the Rain
8. Love Lost
9. Burn on the Flame
10. Deja Vu
11. In Love & War

Gary Barden - lead vocals, moans, whispers, pitched russian monks
Michael Voss - electric & acoustic guitars, bass guitars, drums, backing vocals, Hammond organ, piano, string & orchestra conducting, FX settings

All songs written by Gary Barden - Michael Voss - Johann Fiegl,
except
Voices in the rain written by Johann Fiegl - Carsten Schulz,
Burn on the flame written by Brian Connolly - Steve Priest - Andy Scott - Mick Tucker,
In love and war written by Gary Barden - Michael Voss.

Gary Barden is the voice of British hard rock. The first time Barden appeared in the scene was as part of the newly formed MSG (Michael Schenker Group) founded by the former Scorpions guitarist of the same name. Their first collaboration resulted in the highly acclaimed album The Michael Schenker Group which was released in 1980. Besides the great songs and the great guitar output Barden's voice was one of the reasons why this album became a huge success and allowed the band to hit the road in Europe, Japan and the USA.
The album Past & Present (ESM106) marked the first solo album by Gary Barden and offered a very personal collection of new, exciting interpretations of some all-time MSG classics, a selection of songs that both suited Gary Barden and MSG fans! With his long time pal Michael Voss (Casanova, Bonfire) and a couple of friends he went back to the roots to perform his bluesy smoky songs that will touch your soul and are exemplified on the release Agony and the Xtasy.
So here we are in 2007 and Gary has made an album that surpasses them all, this album really ROCKS, check out the opener Creatures of the Night for a driving riff backed up with Gary's unmistakable lead vocals. This is more like the quality we should expect from Gary, not forgetting the input from Michael Voss, who has a pedigree that needs no introduction at all. All these songs are absolute killers, take the cleverness of The Last Samurai and the oriental slant to Dragon's Fire and you will just be amazed at the sheer power of this release. This is truly a great British rock album and is not hard to see why Gary has been involved with so many of the the UK's major talent.
A very powerful rock album.
Внимание! У Вас нет прав для просмотра скрытого текста.