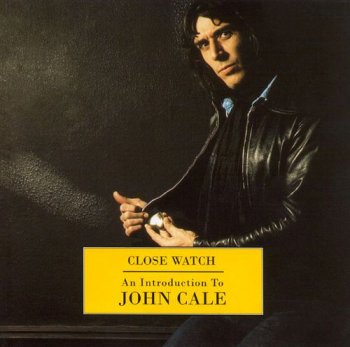 Artist: John Cale
Title Of Album: Close Watch: An Introduction to John Cale
Year Of Release: 1999
Label (Catalog#): Island Remasters Records [524 642-2]
Country: Wales
Genre: Art Rock, Alternative, Experimental
Quality: FLAC (tracks +.cue,log,scans)
Bitrate: Lossless
Time: 68:05
Full Size: 440 mb
Upload: Turbobit / DipFile
Tidily packaged and generously annotated, this 16-track compilation offers a glimpse inside the aural laboratory wherein John Cale has relentlessly labored to reconcile the low (rock) and high (avant-garde/classical) musical aesthetics over the course of his lengthy post-Velvets solo career.

Although the integrity of the quest (not to mention Cale's impeccable pedigree) has to be admired, the end result has been an artistic chimera of innocuous curios (his cabaret noir retake on Elvis Presley's "Heartbreak Hotel"), inspired hybrids (the viola-driven, Beatlesque musings of "Paris 1919," "A Child's Christmas in Wales"), and torpid failures ("Close Watch," "Cable Hogue").

Within the Cale methodology, there is no pop convention that can't be gleefully sabotaged with some well-placed harmonic and/or lyrical dissonance, an approach that too often mistakes non-conformity for originality, ultimately producing music that lumbers under the weight of its own schizophrenic conceits. Listeners already enamored of Cale's baleful voice and peculiar brand of recombinant songcraft will probably want to opt for the more comprehensive Island Years or Seducing Down the Door anthologies, but for the more casual listener this is probably all you'll ever need.
TRACKLIST:
1 Paris 1919 4:06
2 Mr Wilson 3:17
3 Leaving It Up To You 4:33
4 Dying On The Vine 3:58
5 Guts 3:30
6 Set Me Free 4:12
7 Heartbreak Hotel 3:13
8 Ship Of Fools 4:39
9 Cable Hogue 3:29
10 Gun 8:08
11 Riverbank 6:26
12 Child's Christmas In Wales 3:21
13 Fear Is A Man's Best Friend 3:52
14 If You Were Still Around 3:29
15 Wilson Joliet 4:25
16 I Keep A Close Watch 3:27
:: DOWNLOAD LINKS ::
Внимание! У Вас нет прав для просмотра скрытого текста.
:: MusicMuss ::