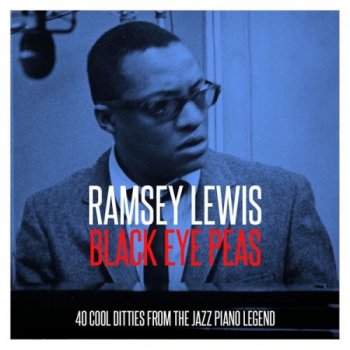 Artist: Ramsey Lewis
Title Of Album: Black Eye Peas
Year Of Release: 2017
Label (Catalog#): Not Now Music [NOT2CD677]
Country: United States
Genre: Jazz, Funk, Soul
Quality: FLAC (tracks)
Bitrate: Lossless
Time: 2:07:39
Full Size: 633 mb
Upload: Turbobit / DipFile
Ramsey Lewis has been an iconic leader in the contemporary jazz movement for over 50 years with an unforgettable sound. Starting to play the piano at the age of four and joining his first jazz band at 15, Ramsey Lewis recorded 80 albums and is still active today at the age of 82. This compilation contemplates the beginning of the three time Grammy award winner's career, including tracks from his early albums such as "Ramsey Lewis & His Gentlemen of Jazz" (1956), "Streching Out" (1960), "Sounds of Spring" (1962) and more.
TRACKLIST:Disc 1
1. Black Eye Peas
2. The Ripper
3. Smoke Gets In Your Eyes
4. I Just Want To Make Love To You
5. You Just Don't Care
6. Decisions
7. Fantasia For Drums
8. The Chant
9. But Not For Me
10. Country Meets The Blues
11. Volga Boatman
12. My Funny Valentine
13. My Bucket's Got A Hole In It
14. I Get A Kick Out Of You
15. Blue Spring
16. Put Your Little Foot Right Out
17. Sound Of Spring
18. Thanks For The Memory
19. This Is My Night To Dream
20. Sometimes I Feel Like A Motherless Child
Disc 2
1. Here 'Tis
2. Waterboy
3. Dark Eyes
4. Come Back To Sorrento
5. John Henry
6. Soul Mist
7. Old Devil Moon
8. Brother John
9. Hello, Cello!
10. Seven Valleys
11. Little Liza Jane
12. These Foolish Things
13. St. Louis Blues
14. We Blue It
15. Soft Winds
16. Your Cheatin' Heart
17. Limelight
18. When The Spirit Moves You
19. Dee's New Blues
20. Solo Para Ti
:: DOWNLOAD LINKS ::
Внимание! У Вас нет прав для просмотра скрытого текста.
:: MusicMuss ::