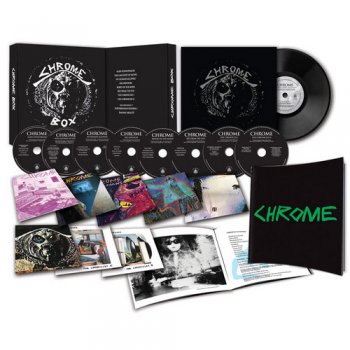 Artist: Chrome
Title Of Album: Chrome Box Revisited
Year Of Release: 2016
Label (Catalog#): Cleopatra [CLO 0054]
Country: United States
Genre: Industrial Rock, Garage Rock, Space Rock, Krautrock, Post-Punk
Quality: FLAC (tracks,cue,log,scans)
Bitrate: Lossless
Time: 4:57:44
Full Size: 1.91 gb
Upload: Turbobit / DipFile
Special CD edition of the super deluxe reissue of the 1982 box set from San Francisco art rock legends Chrome!

This limited edition piece contains all 8 of the classic albums produced by the core duo of Helios Creed and Damon Edge including 1977's Alien Soundtracks, 1979's Half Machine Lip Moves, 1980's Red Exposure, 1982's 3rd From The Sun and more PLUS an exclusive bonus 7" of rarities including the Subterranean Modern tracks, which are appearing here on vinyl for the very first time in over 30 years!
TRACKLIST:CD 1: Alien Soundtracks (1977)
01 Chromosome Damage
02 The Monitors
03 All Data Lost
04 SS Cygni
05 Nova Feedback
06 Pygmies in Zee Park
07 Slip It to the Android
08 Pharoah Chromium
09 St S7
10 Magnetic Dwarf Reptile
CD 2: Half Machine Lip Moves (1979)
01 T.V. as Eyes
02 Zombie Warfare (Can't Let You Down)
03 March of the Chrome Police (A Cold Clammy Bombing)
04 You've Been Duplicated
05 Mondo Anthem
06 Half Machine Lip Moves
07 Abstract Nympho
08 Tuned Around
09 Zero Time
10 Creature Eternal
11 Critical Mass
CD 3: No Humans Allowed (1982)
01 Danger Zone
02 The Manifestation (of the Idea)
03 In a Dream
04 Informations
05 You Can't See Them - They Can't Touch You
06 Inacontact
07 Read Only Memory
08 In Front of the Crowd
09 I Am the Jaw
CD 4: Red Exposure (1980)
01 New Age
02 Rm 101
03 Eyes on Mars
04 Jonestown
05 Animal
06 Static Gravity
07 Eyes in the Center
08 Electric Chair
09 Night of the Earth
10 Isolation
CD 5: Blood on the Moon (1981)
01 The Need
02 Innervacume
03 Perfumed Metal
04 Planet Strike
05 The Strangers
06 Insect Human
07 Out of Reach
08 Brain Scan
09 Blood on the Moon
CD 6: 3rd from the Sun (1982)
01 Firebomb
02 Future Ghosts
03 Armageddon
04 Heartbeat
05 Off the Line
06 3rd from the Sun
07 Shadows of a Thousand Years
CD 7: The Chronicles I (1982)
01 Anorexic Sacrifice (The Chronicles of the Sacrifice)
02 Tribes (The Chronicles of the Tribes)
03 Open Up (Locust Door) (The Chronicles of the Open Doors)
04 Wings Born in the Night (The Chronicles Born in the Night)
CD 8: The Chronicles II (1982)
01 Beacons to the Eye (The Chronicles of the Beacons)
02 Gehenna Lion (Gehenna to Canaan) (The Chronicles of Gehenna / The Chronicles of Canaan)
Bonus 7"
A1 Anti-Fade
A2 Raining Milk
B1 I Left My Heart in San Francisco
B2 Meet You in the Subway
:: DOWNLOAD LINKS ::
Внимание! У Вас нет прав для просмотра скрытого текста.
:: MusicMuss ::