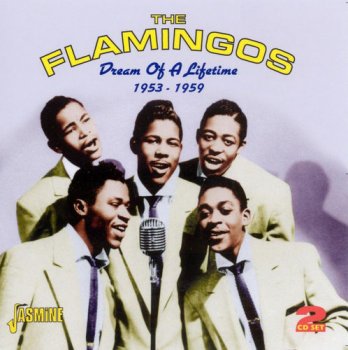 Artist: The Flamingos
Title Of Album: Dream Of A Lifetime 1953-1959
Year Of Release: 2010
Label (Catalog#): Jasmine Records [JASCD 554]
Country: United States
Genre: Doo Wop, Traditional Pop, Rhythm & Blues, Rock n' Roll
Quality: FLAC (tracks,cue,log,d.booklet)
Bitrate: Lossless
Time: 2:19:22
Full Size: 426 mb
Upload: Turbobit / HitFile / DipFile
For the first time on one 2CD set both sides of nearly all of The Flamingos classic 78 and 45 releases recorded between 1953 and 1959. A massive 50 tracks. Includes their major US hits "Golden Teardrop", "I'll Be Home" and the favourite "Jump Children" plus their 1959 smash "I Only Have Eyes For You" which had its arrangement copied note for note in 1975 by Art Garfunkel whose version became a No 1 UK hit. The Flamingos are one of the most respected of all the original Doo-Wop groups of the 1950s and this is an exceptional tribute to their long career that is well worth checking out!
TRACKLIST:Disc 1
1. Some Day Someway
2. If I Can't Have You
3. Hurry Home Baby
4. That's My Desire
5. Golden Teardrops
6. Carried A Way
7. Plan For Love
8. You Ain't Ready
9. Cross Over The Bridge
10. Listen To My Plea
11. Blues In A Letter
12. Jump Children
13. September Song
14. Dream Of A Lifetime
15. On My Merry Way
16. Get With It
17. I Really Don't Want To Know
18. I'm Yours
19. Ko Ko Mo
20. If I Could Love You
21. I Found A New Baby
22. That's My Baby (Chick A Boom)
23. When
24. I Want To Love You
25. Please Come Back Home
Disc 2
1. Need Your Love
2. I'll Be Home
3. A Kiss From Your Lips
4. Get With It
5. Shilly Dilly
6. The Vow
7. Just For A Kick
8. Would I Be Crying (If I Were Lying To You)
9. Dream Of A Lifetime
10. Whispering Stars
11. I'll Be Home
12. Chickie Um Bah
13. Cry
14. Stolen Love
15. Nobody's Love
16. When (Alt Take)
17. The Ladder Of Love
18. Lovers Never Say Goodbye
19. That Love Is You
20. But Not For Me
21. I Shed A Tear At Your Wedding
22. Love Walked In
23. At The Prom
24. Goodnight Sweetheart
25. I Only Have Eyes For You
:: DOWNLOAD LINKS ::
Внимание! У Вас нет прав для просмотра скрытого текста.
:: MusicMuss ::