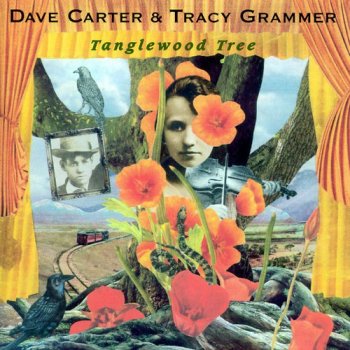 Artist: Dave Carter & Tracy Grammer
Title Of Album: Tanglewood Tree
Year Of Release: 2000
Label (Catalog#):
Country: United States
Genre: Folk Pop/Rock, Americana, Acoustic, Singer/Songwriter
Quality: FLAC (tracks,cue,log,d.booklet)
Bitrate: Lossless
Time: 39:38
Full Size: 240 mb
Upload: Turbobit / HitFile / DipFile
Dave Carter & Tracy Grammer's follow-up to their acclaimed 1998 debut, Tanglewood Tree is a truly potent mix of outstanding country harmonies, exemplary musicianship, and complex narratives. The compositions here provide ample evidence of Carter's much deserved reputation in folk circles as one of the most talented singer/songwriters, as he colors an amazingly rich rural landscape, mixing elements of Native American mysticism with tales of the paradoxes of love and the musings of people in transition, always treating his characters with an honest, understated dignity. Featuring a much fuller sound than their previous record When I Go, Carter and Grammer employ session men and the use of a professional studio for the first time, with the results being a texturally rich collaboration that perfectly showcase Carter's pleasant finger-picking guitar style, as well as his banjo and Hammond organ flourishes. Tracy Grammer plays a larger role than on previous releases, as she sings lead on four tracks in addition to adding beautiful violin and mandolin accompaniment. The sunny, gently rolling "Happytown (All Right With Me)" is one of the more unabashedly melodic pieces, with each vocal turn yielding pure folk-pop bliss. Finger-picked guitar ballads, like "Farewall to Saint Dolores" or the bittersweet "Walking Away From Caroline," reveal a songwriter who is easily adept at avoiding the more maudlin tendencies of many of his contemporaries. The wit and humor in Carter's songwriting can almost be overshadowed by the starkness in tales like "Cat-Eye Willie Claims His Lover," a tragic account of a man who wins a woman in a card game and ends up being killed by her. Still, Carter creates lighter moments with the lyrical and melodic nod to the "Wabash Cannonball" in "Hey Conductor" and lifts a well-placed Bo Diddley riff in "Crocodile Man." Where Carter's voice falls somewhere between Vic Chesnutt and Garth Brooks, Grammer, like a less visceral Lucinda Williams, is the perfect complement; neither are forceful vocalists but both are altogether appropriate for the material. Overall, this is truly a modern folk classic, as Carter's unique approach to songwriting and the musical and vocal contributions of Grammer combine to make what should be remembered as a landmark album in contemporary folk music.
TRACKLIST:
1. Happytown (All Right With Me) (03:33)
2. Tanglewood Tree (03:40)
3. The Mountain (03:37)
4. Farewell to Saint Dolores (04:27)
5. Hey Conductor (03:18)
6. Crocodile Man (03:02)
7. Walkin' Away from Caroline (05:07)
8. Farewell to Fiddler's Rim (02:12)
9. Cat-Eye Willie Claims His Lover (04:06)
10. Cowboy Singer (03:42)
11. Farewell to Bitterroot Valley (02:37)
:: DOWNLOAD LINKS ::
Внимание! У Вас нет прав для просмотра скрытого текста.
:: MusicMuss ::