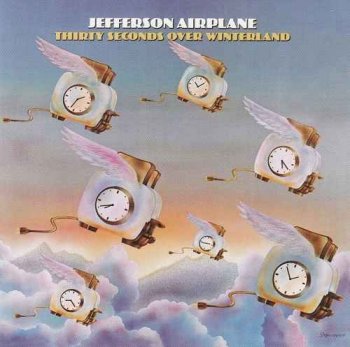 Artist: Jefferson Airplane
Title Of Album: Thirty Seconds Over Winterland
Year Of Release: 1973
Label (Catalog#): Grunt [BFL1-0147]
Country: United States
Genre: Psychedelic Rock
Quality: FLAC (tracks)
Bitrate: Lossless [96kHz/24bit]
Time: 38:00
Full Size: 785 mb
Upload: Turbobit / DipFile
By the summer of 1972, the Jefferson Airplane were on their final approach to the eventual evolution that would produce Jefferson Starship, arguably the most drastic difference being the absence of Jorma Kaukonen (guitar, vocals) and Jack Casady (bass), both of whom were several years into Hot Tuna, a project that began as a musical diversion for the pair and rapidly developed into a permanent roots rock unit. Released in 1973, Thirty Seconds Over Winterland (cleverly named after the Mervyn LeRoy-directed 1944 film Thirty Seconds Over Tokyo) would become the Airplane's swansong. Included were seven tracks taken from the band's last tour of the 1970s, specifically, August 24 and 25 at the Auditorium Theatre in Chicago and the last two gigs the Bay Area combo played in its native San Francisco on September 21 and 22, fittingly held at the band's longtime stomping grounds of the Winterland Arena. Only Kaukonen, Casady, and Paul Kantner (guitar, vocals) remained from the first lineup. They are joined by Grace Slick -- who took over from Signe Anderson just prior to the recording of 1967's landmark Surrealistic Pillow -- and violinist Papa John Creach. Former Turtles and Crosby, Stills, Nash & Young drummer Johnny Barbata had come aboard in the previous year, and the latest addition was Quicksilver Messenger Service co-founder David Freiberg, whose contributions at the time were primarily vocal. The bulk of the effort was drawn from 1971's Bark and 1972's Long John Silver. Although they were still performing "Somebody to Love," "Volunteers," and "Wooden Ships" in concert, a cursory stab at "Crown of Creation" is the earliest cut on this package that harks back to their acid rock persona. Despite some questionable intonations from Kaukonen on "Have You Seen the Saucers," the opener quickly establishes the Jefferson Airplane's harder edge. Kaukonen's "Feel So Good" is the jewel in this otherwise thorny rock & roll tiara. The tune stretches over ten minutes, spotlighting Casady's quake-inducing contributions and Creach's unmistakable fiddle. Speaking of Papa John, he shines on the propelling "Milk Train," featuring a seminal lead from Slick. An outtake of note from the September 22 show made its way onto the 1992 Jefferson Airplane Loves You box set. Marty Balin returned for the one-off, albeit incendiary, "You Wear Your Dresses Too Short."
TRACKLISTING:
A1 Have You Seen The Saucers 04:15
A2 Feel So Good 11:10
A3 Crown Of Creation 03:50
B1 When The Earth Moves Again 04:06
B2 Milk Train 04:05
B3 Trial By Fire 05:05
B4 Twilight Double Leader 05:29
Jack Casady – bass
Paul Kantner – vocals, rhythm guitar
Jorma Kaukonen – lead guitar, vocals
Grace Slick – vocals
Papa John Creach – electric violin
John Barbata – drums, percussion
David Freiberg – vocals
[/center]