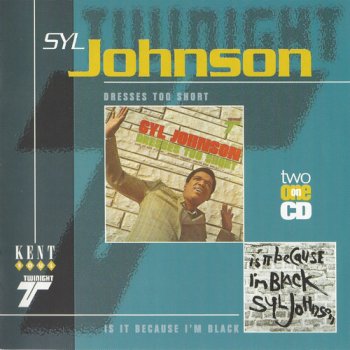 Artist: Syl Johnson
Title Of Album: Dresses Too Short & Is It Because I'm Black
Year Of Release: 1997
Label (Catalog#): Kent Soul [CDKEND 148]
Country: United States
Genre: Soul, Funk, Rhythm & Blues
Quality: FLAC (tracks,cue,log,scans)
Bitrate: Lossless
Time: 62:23
Full Size: 385 mb
Upload: Turbobit / HitFile / DipFile
Single-disc reissue combining Johnson's rare initial two albums, originally released on Twinight in 1968 and 1970. His debut, Dresses Too Short, was a decent but derivative mix of cheery, uptempo Southern soul, somewhat in the mold of Joe Tex (in fact one of the cuts, "I'll Take Those Skinny Legs," and is an obvious takeoff of Tex's hit "Skinny Legs and All"). "Ode to Soul Man" also shows that Johnson was listening to a lot of James Brown at this point. "Come on Sock It to Me," his first hit, is highlighted by some fluid bluesy guitar runs that serve to help elevate the material a bit from the crowded late-'60s Southern soul pack. Is It Because I'm Black, on the other hand, is characterized by socially conscious songwriting, especially in the seven-and-a-half-minute title track, an elongated, serious statement of black pride with a sad funk-blues groove. It wouldn't be fair to call Johnson a bandwagon jumper; this was before Sly Stone's There's a Riot and Marvin Gaye's What's Going On had made realistic ghetto songs chic, and it was a fairly gutsy move for a minor soul singer such as Syl to put such material to the forefront. While nothing else here matches that lost mini-classic, there are some good cuts along similar lines in which Johnson pleads for tolerance and justice and extols black pride, including covers of jazzman Oscar Brown's "Black Balloons," Joe South's "Walk a Mile in My Shoes," and, less successfully, the Beatles' "Come Together."
::TRACKLISTING::Dresses Too Short
1 Dresses Too Short 2:48
2 I Can Take Care Of Business 3:03
3 Different Strokes 2:23
4 Soul Drippin' 2:24
5 Fox Hunting On The Weekend 2:33
6 Ode To Soul Man 2:34
7 Come On Sock It To Me 2:28
8 I'll Take Those Skinny Legs 1:59
9 Try Me 2:02
10 Same Kind Of Thing 2:25
11 I've Got The Real Thing 2:43
12 Sorry 'Bout Dat! 2:16
Is It Because I'm Black
13 Is It Because I'm Black? 7:37
14 Come Together 3:17
15 Together, Forever 2:53
16 Concrete Reservation 2:29
17 Black Balloons 2:40
18 Walk A Mile In My Shoes 2:44
19 I'm Talkin' 'Bout Freedom 3:42
20 Right On 7:13
:: DOWNLOAD LINKS ::
Внимание! У Вас нет прав для просмотра скрытого текста.
:: MusicMuss ::