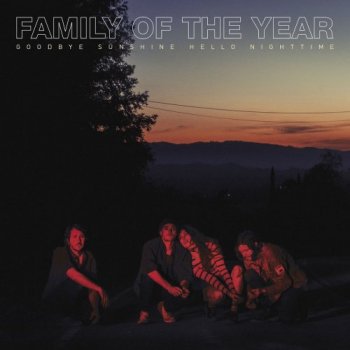 Artist: Family of the Year
Title Of Album: Goodbye Sunshine, Hello Nighttime
Year Of Release: 2018
Label: Reprise Records
Country: United States
Genre: Indie Pop/Rock, Indie Folk
Quality: FLAC (tracks)
Bitrate: Lossless [24bit-96kHz]
Time: 45:33
Full Size: 517 mb
Upload: Turbobit
The album represents a turning point for the quartet as not just musicians, but friends as well. The last few years would prove simultaneously maddening, marvelous, and ultimately majestic for Family of the Year. Started by brothers Joe and Sebastian Keefe, the group made writing retreats to Mount Washington and Bear Valley Springs in order to craft the new music during 2016. However, pressure increased, communication eroded, a once defined creative identity became obscured, and Joe and Sebastian endured the passing of their mom. The turmoil led to a breakthrough for the bandmates. Reinvigorated and re-inspired, they rebuilt their friendships and finished writing and recording with a new creative clarity, going deeper than before.
Produced by Greg Wells (Adele, Dua Lipa, The Greatest Showman), the 12-song set is earmarked by heartfelt introspective storytelling and rich instrumentality, re-emerging with their most hypnotic and heartfelt body of work to date, awash in dreamy hummable harmonies and robust percussion. At the same time, the Keefe's took a moment to look back. The subject matter goes beyond the past few years and encompasses their upbringing in a working class broken home in Martha's Vineyard. "Home" remains a resonant concept throughout. Drummer Sebastian Keefe explains, "We wanted to write something deeper... That had to happen for us to reach our potential for honesty, vulnerability, satisfaction, and creativity."
::TRACKLISTING::
1. Let Her Go (03:12)
2. Bitter Mind (04:58)
3. Hold Me Down (03:17)
4. I'm the One (03:30)
5. Latchkey Kids (04:47)
6. Girl Who Washed Ashore (03:30)
7. Numb (02:10)
8. The Coast (04:58)
9. Where Was I (03:48)
10. Two Kids (02:35)
11. Raw Honey (04:16)
12. Mexico (04:32)
:: DOWNLOAD LINKS ::
Внимание! У Вас нет прав для просмотра скрытого текста.
:: MusicMuss ::