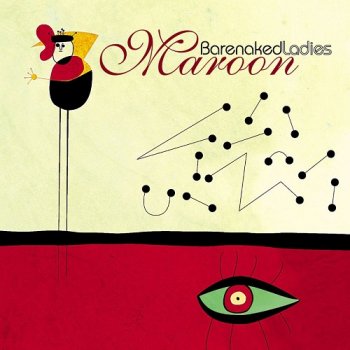 Artist: Barenaked Ladies
Title Of Album: Maroon
Year Of Release: 2000
Label (Catalog#): Reprise Records [9 47814-2]
Country: Canada
Genre: Alternative, Indie Rock, Pop Rock
Quality: WAV (image+.cue,log,scans)
Time: 52:07
Full Size: 549 mb
Upload: Turbobit
Canada's favorite musical comics the Barenaked Ladies didn't get distressed by the mainstream success of their fifth album, 1998's Stunt. The single "One Week" catapulted the five-piece into the homes of TRL diehards and their self-defined cheeky pop sound captured pop music at its finest. They had only been crafting their freewheeling musical perfection since their inception in the late '80s, so the Barenaked Ladies were about due. Two years later, the boys joined forces with producer Don Was (Bob Dylan, Bonnie Raitt, Iggy Pop, Rolling Stones) and delivered yet another merry-making batch of pop songs on Maroon. Ed Robertson and Steven Page split vocal duties and their sparkling honesty of musicianship and friendship once again makes for a spherical delight of humor and grandeur. Barenaked Ladies might not have been distracted by their previous accolades, but Maroon hints at the band's hesitation to refrain from repetition. The lyrical rhymes are typically amusing and the musicianship is colorful and quirky, but first single "Pinch Me" doesn't feel entirely comfortable. A conservative BNL listener would be able to catch the trickling acoustics and thumping basslines, but its head-bopping, toe-tapping excitement is hauntingly similar. But never despair, Maroon does indicate the band's impeccable musical brightness and playful creativity, specifically on songs such as "Falling for the First Time" and "Conventioneers." They toy around with adult responsibility and the fear of conflict with such attractive wit, and the messages are right on. And aside from being intelligently impressive, they twist and turn inside their musical sauciness to pluck at jaunty Americana sounds ("Baby Seat") and frilly bossa nova ("Sell, Sell, Sell"). Barenaked Ladies mold blushing harmonies with loopy guitar hooks -- Maroon is simply charming. It's not outstanding, but the Barenaked Ladies do keep their self-defined whimsicality top-notch.
::TRACKLISTING::
1. Too Little Too Late (3:24)
2. Never Do Anything (3:51)
3. Pinch Me (4:45)
4. Go Home (2:43)
5. Falling for the First Time (3:41)
6. Conventioneers (3:43)
7. Sell Sell Sell (4:01)
8. The Humor of the Situation (3:45)
9. Baby Seat (4:14)
10. Off the Hook (4:34)
11. Helicopters (4:33)
12. Tonight Is the Night I Fell Asleep at the Wheel (8:51)
:: DOWNLOAD LINKS ::
Внимание! У Вас нет прав для просмотра скрытого текста.
:: MusicMuss ::