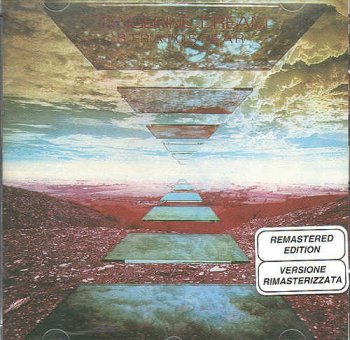 Artist: Tangerine Dream
Title Of Album: Stratosfear
Year Of Release: 1976/1995
Label (Catalog#): Virgin Records [7243 8 40065 25]
Country: Germany
Genre: Electronic, Ambient, Krautrock
Quality: FLAC (tracks,cue,log,scans)
Bitrate: Lossless
Time: 35:20
Full Size: 177 mb
Upload: Turbobit
Stratosfear, the last Tangerine Dream album by the great Baumann/Franke/Froese threesome, shows the group's desire to advance past their stellar recent material and stake out a new musical direction while others were still attempting to come to grips with Phaedra and Rubycon. The album accomplishes its mission with the addition of guitar (six- and 12-string), grand piano, harpsichord, and mouth organ to the usual battery of moogs, Mellotrons, and e-pianos. The organic instruments take more of a textural role, embellishing the effects instead of working their own melodic conventions. Stratosfear is also the beginning of a more evocative approach for Tangerine Dream. Check the faraway harmonica sounds and assortment of synth-bubbles on "3 AM at the Border of the Marsh From Okefenokee" or the somber chords and choral presence of "The Big Sleep in Search of Hades." The title track opener is the highlight though, beginning with a statuesque synthesizer progression before unveiling an increasingly hypnotic line of trance.
::TRACKLIST::
01. Stratosfear 10:35
02. The Big Sleep In Search Of Hades 4:26
03. 3 AM At The Border Of The Marsh From Okefenokee 8:49
04. Invisible Limits 11:24
:: DOWNLOAD LINK ::
Внимание! У Вас нет прав для просмотра скрытого текста.
:: MusicMuss ::