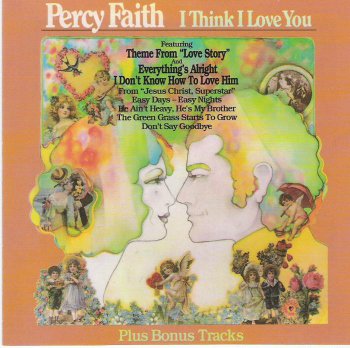 Artist
: Percy Faith & His Orchestra
Title Of Album
: I Think I Love You (With Bonus Tracks)
Year Of Release
: 2004
Label
: Sony Music, Collectables (COL-CD-7653)
Genre
: Easy Listening
Quality
: FLAC (image+.cue+log)
Bitrate
: Lossless
Total Time
: 56:22
Total Size
: 363 MB (Covers)
Tracklist:
01. Everythings Alright (Mixed Chrous)
02. Where Do I Begin(Love Story)(Mixed Chrous) This is one of my favorite songs and Faith does a great job on it.
03. Love The One Your With (Mixed Chrous)
04. He Ain't Heavy He's My Brother (Mixed Chrous)
05. Easy Days Easy Nights (Mixed Chrous)
06. The Green Grass Starts To Grow (Mixed Chrous)
07. I Don't Know How To Love Him (Mixed Chrous)Percy's Instrumental version of this song is on The Beatles Album/Jesus Christ Superstar.Both versions sound the same except for the one here has vocals and the one on the other cd is instrumental.
08. I Think I Love You (Mixed Chrous)
09. My Sweet Lord(Mixed Chrous)
10. Rose Garden(Mixed Chrous)
11. Don't Say Goodbye(Mixed Chrous)
Bonus Tracks These Were Singles That Were Never Previously Released Until Now
12. The Time For Love Is Anytime(Mixed Chrous)1969
13. Peppermint Hill And Strawberry Lane(Mixed Chrous)1969
14. Theme From Young Lovers(Mixed Chrous)This was Faith's 2nd version his instumental version is on the Theme For Young Lover's cd.1970
15. Although attribitued to Anytime Of The Year this is actually I Can Hear The Music Play(Female Chrous)
16. The Godfather Waltz(Instrumental Lush)1972
17. Life Is What You Make Of It(Theme From Kotch)(Instrumental Lush)1972
18. Emmanuelle The Joys Of A Woman (Instrumental Lush)1976 Even thou Summerplace 76 was Faith's last album he went on to record a few more songs but they never got put on an album.This is one of them.
Download / Скачать:
Внимание! У Вас нет прав для просмотра скрытого текста.