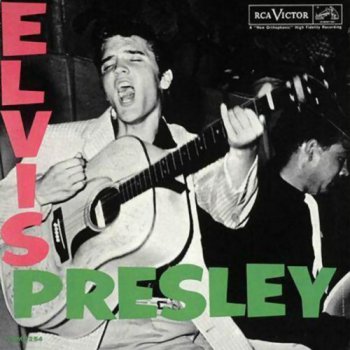 Исполнитель:
Elvis Presley
Название:
Elvis Presley
Год выпуска:
1956 (2011)
Жанр:
Rock and Roll
Формат/качество:
FLAC/Lossless
Количество композиций:
36
Продолжительность:
01:27:55
Размер:
431Mb (3% на восстановление)
Залито на:
Unibytes.com, Letitbit.net, Turbobit.net, Galaxy-File.com
Трэклист | Tracklist
CD1
01. "Blue Suede Shoes" Carl Perkins 1:58
02. "I'm Counting on You" Don Robertson 2:24
03. "I Got A Woman" Ray Charles and Renald Richard 2:23
04. "One-Sided Love Affair" Bill Campbell 2:09
05. "I Love You Because" Leon Payne 2:42
06. "Just Because" Sydney Robin, Bob Shelton, Joe Shelton 2:32
07. "Tutti Frutti" Dorothy LaBostrie and Richard Penniman 1:59
08. "Tryin' to Get to You" Rose Marie McCoy and Charles Singleton 2:33
09. "I'm Gonna Sit Right Down and Cry (Over You)" Howard Biggs and Joe Thomas 2:05
10. "I'll Never Let You Go (Lil' Darlin')" Jimmy Wakely 2:25
11. "Blue Moon" Richard Rodgers and Lorenz Hart 2:43
12. "Money Honey" Jesse Stone 2:36
13. "Heartbreak Hotel" Mae Axton, Tommy Durden, Elvis Presley 2:08
14. "I Was The One" Aaron Schroeder, Claude DeMetrius, Hal Blair, Bill Peppers 2:34
15. "My Baby Left Me" Arthur Crudup 2:12
16. "Lawdy Miss Clawdy" Lloyd Price 2:08
17. "Shake, Rattle & Roll" Jesse Stone 2:37

CD2
01. "Rip It Up" Robert Blackwell and John Marascalco 1:50
02. "Love Me" Jerry Leiber and Mike Stoller 2:41
03. "When My Blue Moon Turns to Gold Again" Gene Sullivan and Wiley Walker 2:18
04. "Long Tall Sally" Robert Blackwell, Enotris Johnson, Richard Penniman 1:51
05. "First in Line" Aaron Schroeder and Ben Weisman 3:21
06. "Paralyzed" Otis Blackwell and Elvis Presley 2:18
07. "So Glad You're Mine" Arthur Crudup 2:18
08. "Old Shep" Red Foley 4:10
09. "Ready Teddy" Robert Blackwell and John Marascalco 1:55
10. "Anyplace is Paradise" Joe Thomas 2:26
11. "How's the World Treating You?" Chet Atkins and Boudleaux Bryant 2:23
12. "How Do You Think I Feel" Webb Pierce and Wiley Walker 2:10
13. "I Want You, I Need You, I Love You" Lou Kosloff and George Mysels 2:40
14. "Hound Dog" Jerry Leiber and Mike Stoller 2:16
15. "Don't Be Cruel" Otis Blackwell and Elvis Presley 2:30
16. "Anyway You Want Me (That's How I Will Be)" Cliff Owens and Aaron Schroeder 2:13
17. "Too Much" Lee Rosenberg and Bernard Weinman 2:31
18. "Playing for Keeps" Stan Kesler 2:50
19. "Love Me Tender" Vera Matson and Elvis Presley 2:41
Скачать / Download Elvis Presley - Elvis Presley (1956) Legacy Edition Reissue (2011)
Внимание! У Вас нет прав для просмотра скрытого текста.