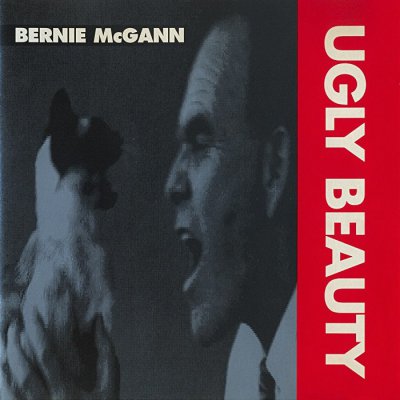 Artist
: Bernie McGann
Title Of Album
: Ugly Beauty
Year Of Release
: 1991
Label (Catalog#)
: Spiral Scratch [0010]
Country
: Australia
Genre
: Contemporary Jazz
Quality
: FLAC (tracks+.cue,log,scans)
Bitrate
: Lossless
Time
: 53:50
Full Size
: 351 MB
McGann, Bernie (Bernard Francis), alto saxophone; b. Sydney, Australia, 22 June 1937; d. Sydney, Australia, 17th September 2013, aged 76 years.
McGann emerged on the wave of energetic modern jazz activity that Australia witnessed from the late 50s through the early 60s. During that period he and his quartet leapt into unprecedented freedom and intensity of expression. Going beyond accepted norms, McGann was the subject of some musical controversy. He was accused of emulating Ornette Coleman at a time when McGann had not even heard his alleged model. From the 70s to 90s, the Bernie McGann Trio and Bernie McGann Quartet has been active through whole period. In 1974, he was a founding and continuing member of The Last Straw. From 1980-82, the Bernie McGann Trio played support to US jazz artists Freddie Hubbard, Lester Bowie, Dave Liebman etc. In 1981, he played and recorded with US saxophonist Sonny Stitt shortly before Stitt died. In 1983, he studied in New York on a grant from The Australia Council. In 1986, the Bernie McGann Trio toured Australia with US saxophonist Dewey Redman. In 1987, he toured with The Last Straw to Tasmania. Recorded two albums, one trio and one quartet. In 1988, he toured Australia and USA with the Australian Jazz Orchestra, a special Bicentennial project. The Last Straw toured New Zealand jazz festivals with an Australia Council international touring grant. The Bernie McGann Trio played at London's famous Ronnie Scott's club before touring jazz festivals in Poland , Czechoslovakia, Bulgaria, Yugoslavia, India and Malaysia. In 1989, he was a solo artist at Aukland's Jazz & Blues Festival. Appeared with The Last Straw at the prestigious Montreal Jazz Festival in Canada. Performed with Nat Adderly. In 1990, he toured the USSR with The Last Straw, performing to enthusiastic audiences at jazz festivals including Leningrad. In 1993, he toured Canadian Jazz Festivals. In 1996, he toured Canada and Europe including Northsea Jazz Festival and Munchener Klaviersummer. In 1997, the Bernie Mcgann Trio appeared at the Chicago Jazz Festival. In 2001, he made festival appearances at Pori, Finland; Copenhagen, Denmark and Umbria, Italy. After 20 years of leading a trio with John Pochee and bassist Lloyd Swanton (b. Lloyd Stuart Swanton, 14th August, 1960 Sydney, Australia), McGann has rung the changes. Since around 2000 Swanton has been replaced by Brendan Clarke, and guitarist James Muller's addition has created a quartet. Also works in John Pochee's band Ten Part Invention since its founding in 1986.
Tracklist:
1. The Night Has A Thousand Eyes (Garrettt/Wayne/Weismann) - 5:45
2. Ugly Beauty (Monk) - 4:38
3. Bluebird Of Happiness (Heyman/Davies/Harmati) - 7:11
4. Daydream (Ellington/Strayhorn) - 6:53
5. Without A Song (Eliscu/Rose/Youmans) - 9:18
7. Desperados (McGann) - 7:14
8. Lady's Choice (McGann) - 6:50
9. Barbados (Parker) - 6:01
********************************
Bernie McGann
- alto saxophone
Lloyd Swanton - bass
John Pochee - drums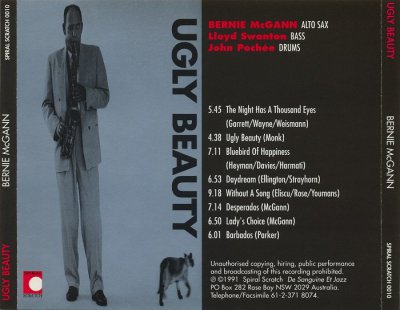 Download / Скачать:
Внимание! У Вас нет прав для просмотра скрытого текста.