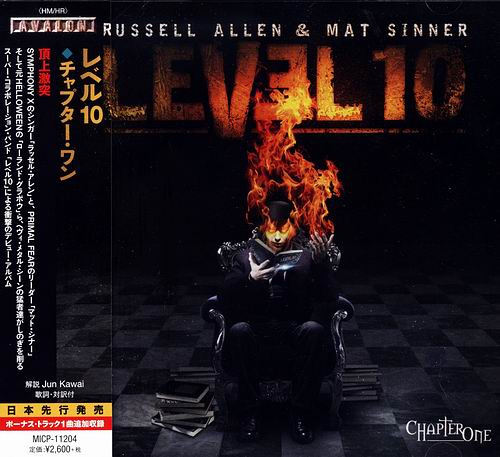 Artist:
Level 10
Title Of Album:
Chapter One [Japanese Edition]
Release Date:
2015
Location:
International
Label:
Avalon (MICP-11204)
Genre:
Melodic Metal / Heavy Metal
Quality:
FLAC | lossless (image+.cue)
Length:
56:38 min
Tracks:
13
Total Size:
412 Mb (+3%)
WebSite:
----
Level 10 - проект совместного творчества Russell Allen (Symphony X, Adrenaline Mob, ALLEN/LANDE) и Mat Sinner (Primal Fear, Sinner)
Tracklist:
01. Cry No More
02. Soul of a Warrior
03. When the Nighttime Comes
04. One Way Street
05. Blasphemy
06. Last Man on Earth
07. In for the Kill
08. Voice of the Wilderness
09. All Hope Is Gone
10. Demonized
11. The Soul Is Eternal
12. Forevermore
13. All Hope Is Gone (Acoustic Version Exclusive Bonus Track)
Band:
Russell Allen Vocals (lead & backing)
See also: Adrenaline Mob, Allen - Lande, Russell Allen's Atomic Soul, Symphony X, Star One, ex-Trans-Siberian Orchestra
Mat Sinner Bass, Vocals (backing)
See also: Goddess Shiva, Kiske / Somerville, Primal Fear, Silent Force, Sinner, Voodoo Circle, Mat Sinner, ex-Rick Renstrom, ex-Scheepers (live), ex-Beast of Prey, ex-Cans
Randy Black Drums, Percussion
See also: Duskmachine, Destruction (live), ex-Deception, ex-Annihilator, ex-Primal Fear, ex-Rebellion
Alex Beyrodt Guitars
See also: Missa Mercuria, Primal Fear, Silent Force, Sinner, Voodoo Circle, Mat Sinner, ex-The Sygnet, ex-Wild Axes
Roland Grapow Guitars
See also: Masterplan, Roland Grapow, ex-Helloween, ex-Serious Black, ex-Rampage
Alessandro Del Vecchio Keyboards
See also: Edge of Forever, Gianluca Ferro, Silent Force, Verde Lauro, Dragon's Cave (live), Brunorock, Hardline, Moonstone Project, ex-Eden's Curse, ex-Fury N Grace, ex-Strings 24
Релиз - dmitriy_09_79
Внимание! У Вас нет прав для просмотра скрытого текста.