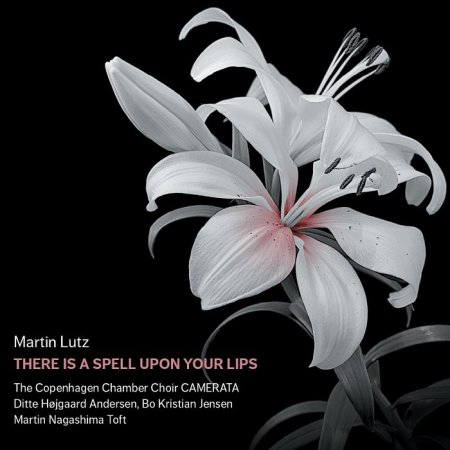 Artist
: Martin Lutz
Title Of Album
: There Is a Spell upon Your Lips
Year Of Release
: 2015
Label (Catalog#)
: Dacapo [8.224724]
Country
: Germany
Genre
: Contemporary Classical, Choral
Quality
: FLAC (image+.cue+.log,d.booklet)
Bitrate
: Lossless
Time
: 66:14
Full Size
: 265 MB
dacapo-records
:
Martin Lutz (b. 1974) is an artist of bold strokes in both style and genre. While his intimate and hauntingly beautiful Stabat Mater (2007) and reflective Two Marian Motets (1998) are musical settings of much-loved religious poetry, the accompanying works are devoted to earthly love in its most spellbinding form. Presented for the first time on CD, the choral compositions of Martin Lutz show the otherwise jazz-oriented composer from a more classical side.
Tracklist:
01. Stabat Mater dolorosa - Cuius animam gementem [0:02:49.04]
02. Stabat Mater: O quam tristis et afflicta [0:01:58.49]
03. Stabat Mater: Quae maeraebat et dolebat [0:02:26.43]
04. Stabat Mater: Quis est homo qui non fleret - Quis non posset contristari [0:01:49.68]
05. Stabat Mater: Pro peccatis suae gentis [0:02:19.15]
06. Stabat Mater: Vidit suum dulcem natum [0:02:43.37]
07. Stabat Mater: Eja, mater, fons amoris [0:02:16.29]
08. Stabat Mater: Fac ut ardeat cor meum [0:02:54.22]
09. Stabat Mater: Sancta Mater, istud agas [0:02:59.44]
10. Stabat Mater: Tui nati vulnerati - Fac me vere tecum flere [0:01:53.59]
11. Stabat Mater: Juxta crucem tecum stare [0:03:04.08]
12. Stabat Mater: Virgo virginum praeclara [0:01:49.66]
13. Stabat Mater: Fac ut portem Christi mortem [0:02:06.36]
14. Stabat Mater: Fac me plagis vulnerari [0:02:07.52]
15. Stabat Mater: Inflammatus [0:03:11.36]
16. Stabat Mater: Fac me cruce [0:02:01.57]
17. Stabat Mater: Quando corpus morietur [0:03:25.24]
18. 2 Marian Lovers: No. 1. Salve Regina [0:02:30.18]
19. 2 Marian Lovers: No. 2. Ave Maria [0:02:19.48]
20. Hoc est corpus, hokus pokus [0:05:22.61]
21. There Is A Spell Upon Your Lips [0:09:46.16]
22. 2 Love Songs: No. 1. Those Lips that Love's own Hand did Make [0:02:11.08]
23. 2 Love Songs: No. 2. How oft when Thou, Music, my Music, play'st [0:02:06.55]
**********************************************
Ditte H?jgaard Andersen (soprano)
Bo Kristian Jensen (tenor)
Mathias Reumert (vibraphone)
Mette Termansen (oboe)
Adam Stadnicki (cello)
Sabine Weinschenk (bassoon)
The Copenhagen Chamber Choir CAMERATA, Martin Nagashima Toft (conductor)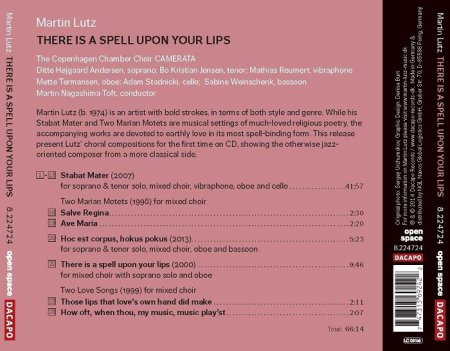 Внимание! У Вас нет прав для просмотра скрытого текста.