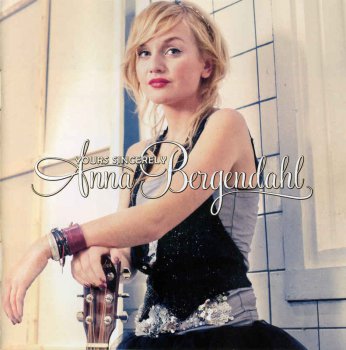 Artist: Anna Bergendahl
Title Of Album: Yours Sincerely
Year Of Release: 2010
Label (Catalog#): Lionheart International [LHICD0107]
Country: Sweden
Genre: Pop, Folk, Adult Contemporary
Quality: FLAC (tracks,scans)
Bitrate: Lossless
Time: 43:32
Full Size: 383 mb
Upload: Turbobit / Uploaded
A former star of kids talent show Super Troupers and 2009 finalist on Sweden's version of Pop Idol, singer/songwriter Anna Bergendahl has gained unfortunate notoriety in her homeland for becoming its first ever Eurovision Song Contest entrant to fail to make it to the main competition. The offending track, "This Is My Life," appears on her debut album, Yours Sincerely, alongside 11 other songs, which suggest that her dismal showing was more down to the unexpected eschewing of her country's traditional schlager-pop than her material or performance. Indeed, Bergendahl's sound has much more in common with the country-pop of Taylor Swift, the jazz-soul of Paloma Faith, and the easy listening folk of Katie Melua than the bombastic Euro-camp of her Eurovision predecessors Carola, Charlotte Perrelli, and Malena Ernman. Dismissing any fears from the offset that Yours Sincerely would follow the same acoustic balladry formula of its most famous track, it opens with "Rolling Dice," an enchanting blend of Motown, trad jazz, and lounge-pop, full of sweeping strings, Glenn Miller-style brass, and a chorus as sweet as sugar. The eclecticism continues on the uplifting gospel-fused "Yeah Yeah Yeah," where Bergendahl's quivering powerful vocals recall a more understated Christina Aguilera; the authentic wartime pastiche "My Love," which echoes the gentle big-band pop of Eliza Doolittle; and a tender rendition of Bonnie Raitt's blues standard "Have a Heart," the only cover on the album, which also features five co-writes by Bergendahl. Best of all is "You Make Me Happy," a stunning duet with Faroe Islands vocalist Brandur Enni, which starts off as a restrained emotive midtempo before bursting into a U2-style finale of chiming guitars, anthemic rhythms, and passionate ad-libs. For someone with such a unique voice, it's a shame that the songs allowing her to fully showcase it end up falling short. "Beautiful" is the kind of wishy-washy Disney-esque ballad Kelly Clarkson used to belt out before she found her rock mojo; "Melodramatic Mess" is a pleasant but utterly unremarkable attempt at an acoustic torch song; and the use of mandolins may provide some authenticity to "Barcelona Blues," but doesn't compensate for the lack of a memorable tune. Her uptempo tracks, then, are infinitely far more appealing than her slower numbers, but she possesses the kind of voice that's just aching for a heartfelt love song that would make her Eurovision disaster a distant memory. With Yours Sincerely, Bergendahl doesn't score on that front, but there's enough potential here to suggest that in the future she will.
TRACKLIST:
1. Rolling Dice (3:00)
2. This Is My Life (3:01)
3. Barcelona Blues (2:53)
4. The Army (3:28)
5. Yeah Yeah Yeah (3:51)
6. My Love (3:57)
7. Beautiful (4:14)
8. Bye Bye Darling (3:28)
9. Got My Heart In Your Pocket (3:15)
10. Have A Heart (4:14)
11. You Make Me Happy (Feat. Brandur Enni) (3:55)
12. Melodramatic Mess (4:10)
:: DOWNLOAD LINKS :: СКАЧАТЬ ::
Внимание! У Вас нет прав для просмотра скрытого текста.