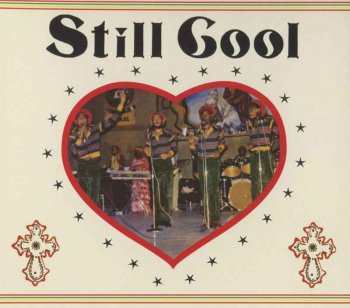 Artist: Still Cool
Title Of Album: Still Cool
Year Of Release: 2016
Label (Catalog#): Uprising [DKR-214CD]
Genre: Reggae, Roots, Dub
Quality: FLAC (tracks,scans)
Bitrate: Lossless
Time: 1:16:54
Full Size: 512 mb
Upload: Turbobit / DepFile / HitFile
At long last, the legendary unreleased Still Cool album! Producer Carl Stereo Fletcher had been planning this LP on his Uprising label since the late 1970 s. In fact, it was nearly released in Nigeria (!!!), but due to a faulty tape machine on a trip to Lagos, it never happened. Finally released nearly 40 years later, here it is. Still Cool, like Stereo and his Uprising label, were part of the vibrant musical arm of the 12 Tribes of Israel Rastafarian group in the 1970 s. Still Cool regularly performed on 12 Tribes stage shows, just check the photos in our LP & CD jackets. Four of the ten tracks on this album were released as singles back in the day, including one ( Sweeter Music ) credited only to Still Cool vocalist Frankie Diamond. The other six tracks have never been released until now. This is a fantastic 1970 s roots harmony album that should appeal to fans of classic harmony a la The Abyssinians, Mighty Diamonds, Wailing Souls, Burning Spear, Culture and Bob Marley & The Wailers. The CD version includes six bonus tracks of alternate and extended mixes, culled from rare 45 and 12-inch singles, as well as longer/ unedited versions of the 10 album tracks. Both the CD and LP layouts include incredible photos of the musicians and producer from back in the day. One of our best releases yet, we hope you enjoy this album as much as we do.
TRACKLIST:
1 Captive Minds 5:08
2 Insane Love 4:27
3 To Be Poor Is A Crime 3:51
4 The Good Book 4:00
5 Crab In A Barrel 5:56
6 Dreadlock Stand Up 5:49
7 Angel Of Love 6:12
8 Moving Vision 2:38
9 Cuts Will Heal 2:59
10 Sweeter Music 3:23
11 To Be Poor Is A Crime (Original JA 45 Mix) 3:35
12 My God, My God (To Be Poor.. Version) (Original JA 45 Mix) 3:32
13 Insane Love (UK Discomix) 6:52
14 Stereo Style '79' (Insane Love Version) (UK Discomix) 4:30
15 To Be Poor Is A Crime (US Discomix) 7:03
16 Crab In A Barrel (US Discomix) 6:50
:: DOWNLOAD LINKS :: СКАЧАТЬ ::
Внимание! У Вас нет прав для просмотра скрытого текста.
Изменил: artmuss по причине: Re-Up