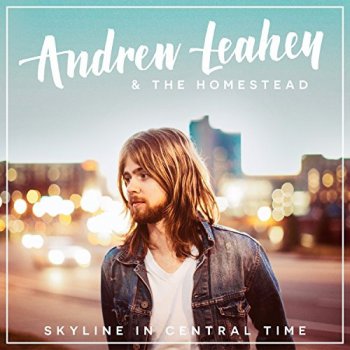 Artist: Andrew Leahey & The Homestead
Title Of Album: Skyline in Central Time
Year Of Release: 2016
Label: Skyline Music
Country: United States
Genre: Alt-country, Americana, Singer/Songwriter
Quality: FLAC (tracks)
Bitrate: Lossless
Time: 47:22
Full Size: 324 mb
Upload: Turbobit / DepFile / HitFile
Andrew Leahey's fiery roots rock anthems don't need a feelgood back-story to give them heart. He and his group, the Homestead, had already proven themselves countless times on the road and with their glowing studio debut before discovering in the summer of 2013 that he had a brain tumor. Having just released his Summer Sleeves EP, the Virginia native seemed poised for a breakout when his career was abruptly brought to a halt by an illness that could ultimately cost him his hearing, balance, and possibly his life. The intensive surgery and grueling recovery that followed would lend an air of gravitas to any writer worth his craft and, while it certainly informs the 11 tracks on his follow-up LP, Leahey's heartfelt optimism was already at the core of his sound and personality. Written largely in the months during his recovery, Skyline in Central Time was recorded in Nashville by producer and former Wilco drummer Ken Coomer, whose gentle touch adds some sparkle and punch to the proceedings without detracting from the band's organic spirit. The lively jangle and noisy twang of their debut remains, but Leahey's growth as a songwriter is evident all over this well-crafted set. Hard-driving rockers like "The Good Life" and "Shot" are big-hearted songs made for the stage, but the reflective tone of more subtle standouts like the seven-minute "Who Wants an Easy Love?" and the haunting "When the Hinges Give" offers the sense of new ground freshly broken. While his renewed vigor is certainly apparent, Leahey's brush with mortality has also sharpened his lyrical sense, yielding killer lines like "so if we burn to wax, we'll make the most of the heat, while the devil counts the minutes like it's New Year's Eve." That Skyline in Central Time has its roots in a tragedy averted only makes its case stronger, but Leahey has shown himself to be a hardworking craftsman with a natural sense for honest American rock & roll and there's a feeling he would have gotten himself here one way or another.
TRACKLIST:
01. Little in Love (4:29)
02. Better Medicine (3:25)
03. The Good Life (3:52)
04. Shivers and Shakes (3:48)
05. When the Hinges Give (3:54)
06. Penitentiary Guys (5:11)
07. 10 Years Ago (4:36)
08. Silver Linings (3:38)
09. Stable Hand (3:36)
10. Shot (3:40)
11. Who Wants an Easy Love? (7:08)
:: DOWNLOAD LINKS :: СКАЧАТЬ ::
Внимание! У Вас нет прав для просмотра скрытого текста.