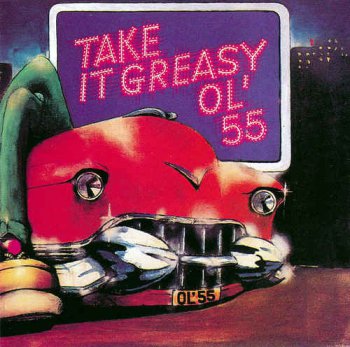 Artist: Ol' 55
Title Of Album: Take It Greasy
Year Of Release: 1991 [1976]
Label (Catalog#): Mushroom [D19225]
Country: Australia
Genre: Classic Rock, Rock & Roll
Quality: FLAC (tracks +.cue,log,scans)
Bitrate: Lossless
Time: 37:02
Full Size: 220 mb
Upload: Turbobit / DepFile / HitFile
Ol' 55 was an Australian band specialising in retro, '50s-era music and enjoyed enormous popularity with a style that bordered on parody. It was born from a band called Fanis and was formed in 1975 during which time drummer Geoff Plummer had been working with Glenn A. Baker at the department of media. Geoff invited Glenn, now a rock historian, to hear Fanis, of which he had been a member, along with Rockpile Jones (guitar), Jimmy Manzie (bass), Pat Drummond (guitar) and Paul McCann. Glenn took over the management of the band, renamed it, and introduced former chartered accountant Peter Bryan as larger-than-life motor mouth front man Frankie J. Holden and saxophonist Wilbur Wilde.
One of the features of the band was that all six members were talented at singing and at concerts the lead vocals were shared, although Frankie J. and Rockpile sang most of the songs. Rockpile's falsetto and range was amazing and he has been arguably one of the most underrated vocalists in Australian rock music history. With Geoff's bass vocal talents, Ol' 55 produced complex harmonies, sometimes managing four or five piece vocal arrangements.
The band dressed in authentic 1950s rocker gear and mixed vintage material with excellent originals (mostly penned by bassist, Jimmy Manzie). By September 1975 the band had released its first single (Paul Anka's Diana) on the Mushroom label. The single was a minor hit in Sydney, but it was the follow up track, On The Prowl which launched Ol' 55 into the national Top 20. At the same time, their debut album Take It Greasy peaked at number 3 nationally, eventually attaining triple platinum status selling more than 230,000 copies and staying in the charts for a massive 39 weeks.
TRACKLIST:
1. Intro: Summertime, Summertime (1:40)
2. Irridescent Pink Sock Blues (2:27)
3. I Wonder Why (2:15)
4. Almost Grown (2:11)
5. Think It Over (2:00)
6. Get a Job (2:36)
7. Doin' Fine (2:38)
8. Only Sixteen (2:19)
9. This Little Girl (3:13)
10. On the Prowl (3:01)
11. New Girl in School (2:10)
12. Skateboard Thrills (2:34)
13. Looking for an Echo (3:25)
14. Goodnight Sweetheart (2:18)
15. Outro: School Days (2:09)
:: DOWNLOAD LINKS :: СКАЧАТЬ ::
Внимание! У Вас нет прав для просмотра скрытого текста.