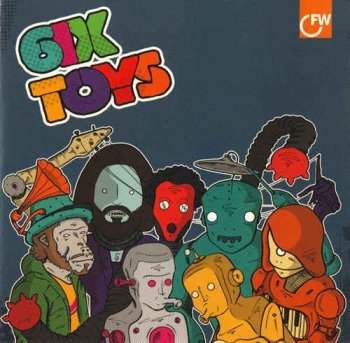 Artist: 6ix Toys
Title Of Album: 6ix Toys
Year Of Release: 2008
Label: First Word Records [FW25CD]
Country: UK
Genre: Funk, Soul, Jazz
Total Time: 41:26 min
Format: FLAC (tracks +.cue,log,scans)
Quality: Lossless
Total Size: 324 mb
Upload: Turbobit / DepFile / HitFile
First Word is proud to present the debut album from the hottest new funk band in the UK - the incredible 6ix Toys. After launching The Haggis Horns & kidkanevil to massive critical acclaim, 6ix Toys are the latest act to join the ever-growing First Word roster. 6ix Toys are a 7-piece funk powerhouse currently based in Liverpool. A major part of the local funk and jazz scene the band comprises drums, bass, keys, guitar, trombone and sax with the addition of No Fakin' DJ Fred Ruddick on the cuts. After the massive success of their debut single - an unstoppable cover of The Prodigy classic 'Voodoo People' the boys have followed up quickly with their long player. Over ten tracks of authentic funk this is a straight-up party album, aimed directly at the dancefloor. With the band's instrumental tracks at the heart of the release, there are also a few choice vocal collaborations: Blues vocalist of the year Connie Lush lends her lungs to the opener 'Paint The Toon' with One Self's Yarah Bravo adding a sultry vocal to the laid-back 'The Grind', and Katie Miller of The Diesler Live Experience appearing on the Motown-influenced 'Cannibal Lunch'. As well as the ubiquitous 'Voodoo People' there are plenty of other club cuts - notably party-starter 'Giggle', the driving 'Mosquito' and the bouncing 'Bend Yo' Knees'.
TRACKLIST:
1 Paint The Toon 5:08
2 Skreech 3:39
3 Voodoo People 5:12
4 Mosquito 3:47
5 Wake 'N' Bake 3:32
6 Wanna Ride 5:08
7 Bend Your Knees 4:01
8 Giggle 3:31
9 Cannibal Lunch 2:58
10 P-Knuckle 4:31
Bass – Jake Foord
Drums – Adam Beaney
Guitar – Mark Beaney
Keyboards – Thomas Ashbrook
Mastered By – Mike Cave
Mixed By, Engineer – Andrea Wright (2)
Percussion – Emma Welsby (tracks: 1, 3, 4, 9, 10)
Producer – Fred Ruddick
Saxophone – Marco Bernardis
Scratches – Fred Ruddick
Trombone – Paul Burton
Trumpet – Mike Davis (48) (tracks: 8)
Written-By – Connie Lush (tracks: 1), D. Lilley (tracks: 9), J. Radford (tracks: 9), L. Howlett (tracks: 3), Six Toys (tracks: 1, 2, 4 to 8, 10), I. Bravo (tracks: 6)
:: DOWNLOAD LINKS :: СКАЧАТЬ ::
Внимание! У Вас нет прав для просмотра скрытого текста.