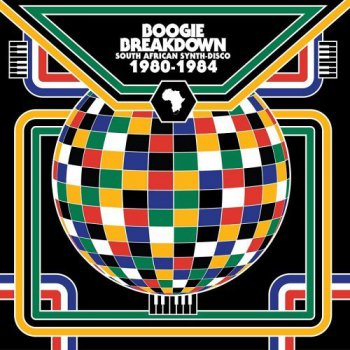 Artist
: Various Artists
Title Of Album
: Boogie Breakdown: South African Synth-Disco 1980-1984
Year Of Release
: 2016
Label (Catalog#)
: Cultures Of Soul Records [COS 018-LP]
Genre
: Disco, Boogie, Funk / Soul, Synth-pop
Quality
: FLAC (tracks,vinyl)
Bitrate
: Lossless [192kHz/24bit]
Time
: 60:59
Full Size
: 2.48 gb
WebSite
:
Album Preview
Upload
: Turbobit / DepFile / HitFile
We probably say this more than we should, but this time our statement really isn't prone to hyberbole: we love the Cultures Of Soul label, and whatever genre they're reissuing, we can always count on them to deliver the quality like no other imprint. From Evans Pyramid to the recent black gospel compilation they've released, we have nothing but good stuff to say about them, and this is equally true of this new South African disco collection from the years 1980-1984. The title alone should do the trick but trust us, there is nothing but fire in here, and if you're the sort of collector scouting for rare African rhythms then this is the gear for you. The Cannibals start off with some lovely docile disco jams, Harari's "Party" is a sublime lo-fi funk cut, the Don Laka material is pure disco glory, and the remaining tunes by the likes of Neville Nash or Al Etto are able to destroy ANY dance floor from here to Durban. Top marks from us...
TRACKLIST:
1. Cannibals - "Hey Tonight" (6:08)
2. Cannibals - "We Keep On Keeping On" (3:56)
2. Harari - "Party" (5:04)
4. Harari - "Good Vibes" (4:13)
4. Don Laka - "I Wanna Be Myself" (5:47)
6. Don Laka - "Lets Move The Night" (5:34)
7. Neville Nash - "Breakdown" (4:45)
8. Neville Nash - "Perfect Love" (3:39)
9. Benjamin Ball - "Flash A Flashlight" (6:35)
10. Benjamin Ball - "I Just Keep Dancing" (4:51)
11. Al Etto - "You've Got The Love" (4:20)
12. Al Etto - "Hold On To Love" (6:18)
'South African Disco, Boogie, and Afro-Synth compiled by DJ Okapi and Deano Sounds'
:: DOWNLOAD LINKS :: СКАЧАТЬ ::
Внимание! У Вас нет прав для просмотра скрытого текста.