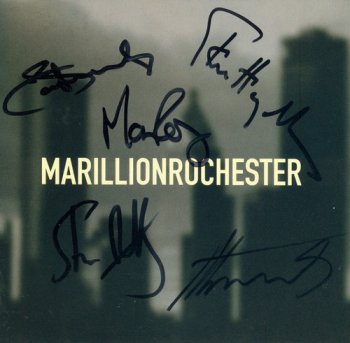 Artist: Marillion
Title Of Album: Marillionrochester
Year Of Release: 1998
Label (Catalog#): Racket Records [RACKET 8]
Country: England
Genre: Neo-Progressive Rock
Quality: FLAC (tracks +.cue,log,scans)
Bitrate: Lossless
Time: 2:07:50
Full Size: 744 mb
Upload: Turbobit / DepFile
In the summer of 1997 Marillion played a four-week tour of North America. But what made this tour unique was that for the first time ever, a band's fans directly financed a tour. It all began when Mark [Kelly] posted to the internet in January 1997 that a North American tour in support of This Strange Engine was not likely, mainly due to financial reasons. By 1 March 1997, at fan Jeff Pelletier's suggestion, $10,000 of tour support money had already been raised. By the time the tour started in August, $40,000 was collected, and the fund was still looking forward; together, our fans from all over the world raised over $61,000 for the North American Strange Engine Tour. As a way of returning the favour to all those who shelled out and put their money where their mouths (and hearts) are, we've released an entire concert from start to finish without edits. These CDs were sent to everyone who donated to and helped with the fund. Less than 2000 were pressed, and no more will ever be made. For those who did donate, tell your friends you made this record! We've always had a great vibe at the shows in America, Canada, and Mexico, but 1997 will stand out as a tour that really did belong to all of us - band, crew, and fans. In truth, everyone involved with the fund played as much of a part in it as we did. Thank you.
TRACKLIST:Disc one
1. Emmanuel / Seasons end (9:01)
2. Alone again in the lap of luxury (5:45)
3. Hard as love (7:48)
4. Eighty days (5:12)
5. Kayleigh (4:11)
6. Lavender (4:19)
7. Afraid of sunlight (6:59)
8. Man of a thousand faces / Estonia (18:15)
9. Easter (6:56)
Disc two
1. This town (6:56)
2. 100 nights (4:41)
3. Slàinte Mhath (5:08)
4. King (7:38)
5. This strange engine (22:15)
6. The great escape (3:58)
7. Falling from the moon (2:08)
8. Garden party (8:00)
- Steve Hogarth / vocals
- Mark Kelly / keyboards
- Ian Mosley / drums
- Steve Rothery / guitars
- Pete Trewavas / basses
:: DOWNLOAD LINKS :: СКАЧАТЬ ::
Внимание! У Вас нет прав для просмотра скрытого текста.