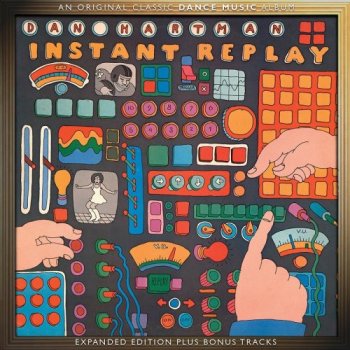 Artist: Dan Hartman
Title Of Album: Instant Replay
Year Of Release: 1978/2016
Label (Catalog#): Soul Music Records [SMCR 5139]
Country: United States
Genre: Disco, Funk, Soul
Quality: FLAC (tracks,scans)
Bitrate: Lossless
Time: 67:18
Full Size: 481 mb
Upload: Turbobit / DepFile
Digitally remastered and expanded edition of Instant Replay, the best-selling 1978 album by multi-faceted music man Dan Hartman. In addition to the original album, this reissue includes four bonus tracks consisting of both sides of two U. S. 12" singles. Previously a singer and musician with the rock outfit, the Edgar Winter Group, Dan began his solo journey as a recording artist in 1976; when his debut LP didn't enjoy sales success, Dan switched his focus to the world of dance music at a time when disco was emerging as a dominant musical genre globally. The single 'Instant Replay' received an instant response on the U. S. pop and R&B charts as well as becoming a hit record throughout Europe and beyond. The entire LP was written and produced by Dan (who passed away in 1994) and recorded at his home studios in Connecticut and mixed by the legendary Tom Moulton, the pioneer of dance music/disco remixes who contributed at length to this 2016 reissue's notes, penned by renowned U. S. writer Justin Kantor; great remastering by Donald Cleveland on this exciting release that includes - for the first time on CD - the two sides of the single 'This Is It' and 'Countdown'.
TRACKLIST:
1 Instant Replay 5:19
2 Countdown / This Is It 14:08
3 Double-O-Love 5:55
4 Chocolate Box 2:51
5 Love Is A Natural 6:16
6 Time And Space 5:55
Bonus Tracks
7 Instant Replay (US 12" Single) 8:19
8 Instant Replay (Replayed) (US 12" Single) 5:19
9 This Is It (US 12" Single) 6:38
10 Countdown (US 12" Single) 7:03
Dan Hartman - Lead and backing Vocals, rhythm and bass guitars, keyboards, all instruments on "Chocolate Box", all instruments except saxophone and congas on "Instant Replay"
Blanche Napoleon - Backing vocals
Vinnie Vincent - Rhythm and acoustic guitars, tambourine, backing vocals
G.E. Smith - Rhythm and lead guitars
Edgar Winter - Saxophone on "Instant Replay" and "Countdown/This Is It"
Hilly Michaels - Drums, percussion
Larry Washington - Congas on "Instant Replay"
:: DOWNLOAD LINKS ::
Внимание! У Вас нет прав для просмотра скрытого текста.